Khloé Kardashian Debates 'Stepping Away' From Husband Lamar Odom On KUWTK Finale, Bemoans 'I Don't Know What Else To Do'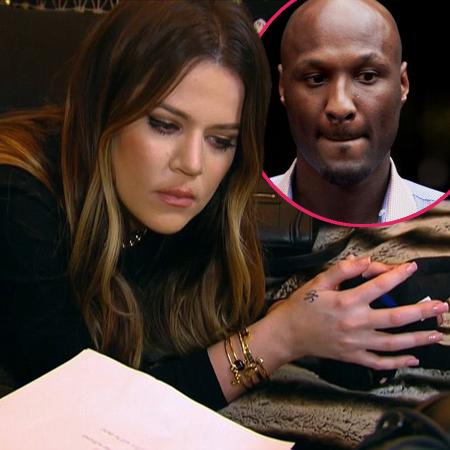 Article continues below advertisement
"I'm at war with myself," Khloe told E!'s cameras about her relationship. "I want to help him but maybe sometimes the best help is stepping away."
And, in the final line on KUWTK's season 8 ender, a devastated Khloe commented, "I just feel like I might need some more help so I have to kind of tell my family."
On Sunday night's episode, Khloe poured her heart out to brother Rob Kardashian, who had been living with his sister and Lamar and privy to their marital woes.
Over lunch at the Four Seasons Hotel, Khloe vented to her brother because people were contacting her about Lamar being MIA.
"It's sad but still, it's like, you've tried so many times," Rob told her. "It's not like it was a week of this, a month of this."
Khloe told him, "Yeah, but, no one knows that but you because you've lived there."
The Kardashian sister then revealed to the cameras, "A lot has been going on the past couple years, just with me and Lamar and I've made that choice myself to just keep that within my marriage.
Article continues below advertisement
"But lately, it's getting bigger than me."
Khloe shared with Rob that her marital problems had caused a media firestorm.
"It's scary and there's a lot going on and there's paparazzi, like hundreds, that just wait outside my gate. It's not easy," she sighed.
"Sometimes things are bigger than yourself and I don't have a plan. I don't know what the next step is," Khloe added in a confessional segment.
Rob told his sister about Lamar, "He's so lovable ... and he's a great athlete. It sucks. It's just never been this way. All you can do is pray and just keep trying if you want to try. If not …"
"What am I supposed to do?" Khloe asked Rob. "I've done everything."
Rob said, "I know. You have to let him figure it out."
Khloe said, "If someone, God forbid, gets their legs cut off or you get breast cancer, do you just leave someone because they're slowing down your life? I'm trying to help and save."
"It's worse than that because he's really hurting you," Rob pointed out. "It's not even a win situation for anybody."
Article continues below advertisement
Rob then broke the bad news to Khloe -- that he was moving out of the home he'd shared with her and Lamar.
Although Khloe considered it bad timing, Rob, who has battled shocking weight gain and depression all season, said he was "in desperate need of fixing myself. I need to be healthy, I need to work out, I need to get out of that bad energy."
Rob said in confessional, "I hate to see my sister hurt and it's just sad to see someone who's my best friend and my brother going through a really dark period because he's part of our family."
Article continues below advertisement
His sister sighed in confessional, "Even though I understand why Rob wants to move out, I wish him and I could live together forever.
"I mean, that's me being selfish but I get it. It's not the best environment right now to be in."
Rob assured Khloe that he wasn't moving far away and if she needed him, he'd be right down the street.
A sad Khloe recalled for the cameras how she and Lamar fell in love instantly and wound up married in 30 days.
After a flashback to their proposal and wedding, Khloe said, "I've done so many things on my own and tried to put the pieces back together on my own.
"Obviously I'd love to help him and let him live his life but I don't know what else to do."
Sunday's episode revolved around the Odom's problems, as Khloe's sister Kourtney told her baby daddy Scott Disick how weird it was that Lamar had never even been to their house!
Article continues below advertisement
"We've never gone out to dinner" with Khloe and Lamar, Kourtney marveled.
And "they live ten minutes down the road!" Scott pointed out.
Later, Scott and Rob made fun of the way Lamar spoke, and Kourtney said, "I don't know what goes on in that house.
"They kind of live in their own world," she told the cameras.
"I just want to get to know him better," Kourtney commented about her brother-in-law Lamar.
Then, Khloe had to make excuses about Lamar's whereabouts after getting a call from Jeff Schwartz, the NBA player's agent.
She admitted to the KUWTK cameras, "As many times as I've protected Lamar or dodged a bullet for him, lately everything is getting more than what I can protect or control -- I'm getting bombarded with questions and I don't know what to say."
Another Sunday night storyline revolved around Kylie Jenner's sweet 16 party and momager Kris Jenner's attempt to plan it all for Kylie -- but the determined teen decided to do her own party planning!
Article continues below advertisement
Later, the two got into a tiff when Kris reorganized Kylie's room behind her back.
Kylie shouted at Kris, "I'm not 6-years-old!"
And when Khloe came over to the Jenner home, Kylie cried to her, "I want to move out so bad."
Khloe begged her mom to ask Kylie before getting rid of her stuff, and later helped her little sister prank Kris by trying to dispose of some of HER clothes.
Meanwhile, however, Kris had a new "child," a little pig that daughter Kendall was supposed to take care of. When she went out of town on a modeling assignment, however, Kris became attached to the pig she named Wilbur and wouldn't let her go.
Later, Kylie and her mom put their differences behind them and all enjoyed the teen's Alice in Wonderland-themed party.
The whole gang was dancing and Kris took the mike to tell her she loved her.
"She's all grown up," Kris concluded.
The only downer at Kylie's sweet 16 bash was Kourtney and Scott's war over his drinking, as RadarOnline.com previously previewed.
Lord Disick found himself harassed by a group of teen boys in the bathroom at the party, but Kourtney wasn't sympathetic.
Watch the video on RadarOnline.com
"You're disgusting. I have to go," Kourtney said, while Scott was insisting the kids were bugging him in the bathroom.
Then Kourt accused Scott of kissing Kris!
"My mom told me you were sucking on her face," Kourtney smiled to Scott, but he denied it as the two finally made up.
However, it's doubtful Khloe and Lamar will do the same after the KUWTK finale made clear how deep their problems really are.