Exclusive
Khloe To Fans: Pay Up! Kardashian Hosts Meet And Greets — For A Price — To Drive Up Sales Of Clothing Line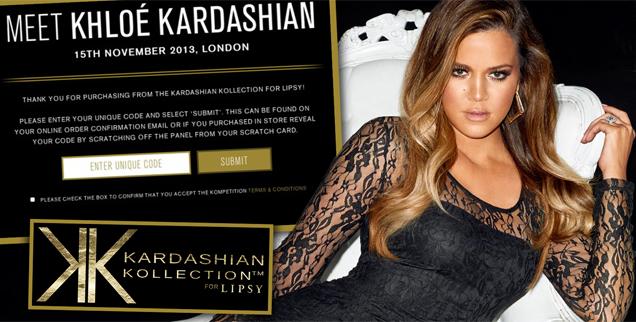 As Khloe Kardashian attempts to deal with the end of her marriage to Lamar Odom, she's made the somewhat surprising decision to leave her husband at home in L.A. with his addiction troubles and take off on a whirlwind trip around the world.
Kardashian will be making appearances in London on November 15, Amsterdam on November 16, Dubai on November 17 and in Australia on November 20 and 21. But she's not just doing it out of devotion to her far-flung fans.
Article continues below advertisement
RadarOnline.com has learned that anyone who wants to meet her will have to put their money where their mouth is, buying an item from the Kardashians' new clothing line -- and even that won't guarantee entry!
Kardashian explained her London meet and greet in a blog post last month. "There are three steps you need to do to enter for a chance to meet me," she wrote.
First, fans were required to purchase an item from the Kardashian Kollection for Lipsy clothing line, which ranges in price from roughly $19 to $240, with an average price of about $82.
Those who purchased an item between October 25 and November 6 would receive a special code. That code would not guarantee entry, however, but could be entered into a sweepstakes for a chance to meet her.
In Amsterdam, the rules were just as strict: According to a set of contest rules posted by Bijenkorf department store and obtained by Radar, fans must buy an item from the clothing line between November 11 and 16, and show their receipt on the day of the Keeping Up With The Kardashians star's appearance.
Article continues below advertisement
"The first 100 people who sign up .. will receive a wristband for a personal signing and meeting with Kardashian," the rules state. The second 100 people showing receipts may sign up for a different colored wristband putting them at the back of the line, but a meeting with Kardashian "cannot be guaranteed," the store warns -- and will happen "only as time permits."
What's more, in Australia too, fans have from November 14 to 20 to shop the collection and the first 200 with a receipt of their purchase on the day of Kardashian's visit will get a chance to stand in line.
The family's shameless attempt to boost sales for the line is understandable considering the dismal performance of some of Khloe, Kourtney and Kim's previous attempts to crack the fashion industry.
Their 2011 line at Sears "failed to attract shoppers, even on Black Friday," AdWeek wrote at the time, and Sears posted losses in several quarters following the launch. More recently, this September, the Kardashians faced a humiliating report that revealed an array of items for their line had been slashed to $9.99 to attempt to clear shelves.