Exclusive
I Wanna Play Ball! Lamar Odom Agrees To Undergo Random Drug Testing For Clippers Spot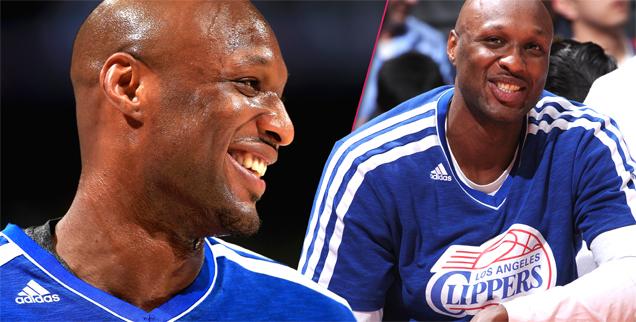 Khloe Kardashian's estranged husband Lamar Odom wants to revive his basketball career and RadarOnline.com is exclusively reporting that in order to earn a spot on the Los Angeles Clippers team he has agreed to undergo random drug tests.
Odom is "very close to signing a one year contract with the Los Angeles Clippers. He has been working out, and getting ready to re-join his team. Lamar agreed to undergo random drug testing administered by the team, and if he returns one dirty test, he will be suspended from the team immediately," a source told RadarOnline.com exclusively.
Article continues below advertisement
As we previously reported, as he battled a drug addiction to crack cocaine his basketball career was placed on hiatus, but now he's serious about returning to the court.
"Lamar has indicated he may travel with a sober companion in the beginning weeks," the source said.
On November 15 Odom met with the L.A. Clippers coach and management. His signing, if it happens, could come in the next few days.
Odom's Keeping Up with the Kardashians star estranged wife is still wearing her wedding ring, a sign she had not yet given up on Odom who cheated on her multiple times and has battled drug problems.
His wife is completely supporting his return to work, and a source told RadarOnline.com she "is hopeful that once Lamar begins playing with the Clippers that their marriage will be back on track. Lamar's entire life is basketball and he has been lost without it, and this one of the reasons why he his drug addiction spiraled out of control. Khloe has been very supportive of Lamar during this time," the insider added.