Lamar Odom's Secret Message To Khloe Kardashian: Is He Finally Taking Responsibility For His Problems?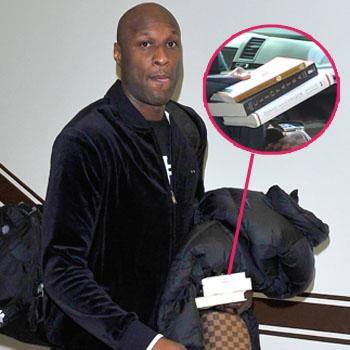 Article continues below advertisement
Published in 1902 by James Allen, As A Man Thinketh is based on Chapter 23, Verse 7, from the Book of Proverbs in The Bible, which contains the popular phrase, "As he thinketh in his heart, so is he." Allen tells readers that "Men do not attract what they want, but what they are," and that "Circumstance does not make the man, it reveals him to himself," among other platitudes that would be at home in The Secret. Overall, the book suggests readers adopt a way of life known as the responsibility assumption, which states that people are fully responsible for everything that happens in their personal lives, whether good or bad.
Odom showed off the book just days after Kardashian tweeted a rant exhorting followers to "learn to be honest," and it would appear that that is what he is trying to do. She is currently on a whirlwind promotional tour for Kardashian Kollection, but the couple have been in counseling trying to come to an agreement on their marriage, as RadarOnline.com has reported.
Odom displayed the reading material at the start of a trip to Rhode Island, where he was spotted hanging out at his alma mater, the University of Rhode Island, on Monday. It is unclear why he visited the school, but he seemed happy while working out in the on-campus gym and posing with fans: