New Khloe Kardashian Paternity Scandal: OJ Simpson's Manager Says America's Most Notorious Criminal Could Be Her REAL Father!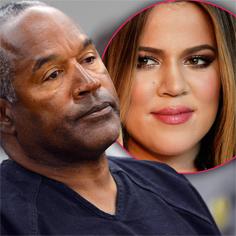 Is Khloe really a Kardashian? Fans have been asking that question for years, but now, a shocking new report has given the rumors their strangest twist yet: O.J. Simpson's manager, Norman Pardo, has come forward to claim that the notorious incarcerated former football star is her real father!
The truth, "is going to come out sooner or later," Pardo tells In Touch. And he believes that the real story is that Simpson and Khloe's mom, Kris Jenner, conceived the youngest Kardashian sister during a drunken hookup.
Article continues below advertisement
And a report in last week's Star magazine claimed that her ex-boyfriend Cesar Sanudo also accused her of cheating with the football star.
Kris denies the claim, telling In Touch, "This is an absolute lie and not true. I have never had an affair with O.J. Simpson."
But Simpson's manager hints that he could be preparing to tell his side of the story with or without Jenner's consent. If a judge grants Simpson's request to be released pending a new trial in December, Pardo claims, Simpson plans to air more information about his relationship with the Kardashians.
Article continues below advertisement
Should that happen, it would be just one more challenge for the already-beleaguered Khloe to shoulder, on top of her shattered marriage to Lamar Odom and his public addiction struggles.
"It would be the worst possible news for Khloe, who's already so vulnerable," a source close to the Kardashians tells the mag. "She would be crushed."
Another insider explains, "She heard her mom talk about how he beat her best friend, Nicole. She thought O.J. was a monster. There are so many emotions and so much pain associated with this man."
Unfortunately, this is not the first time that Khloe's had to face such uncertainty about her father's true identity -- and it won't be the last.
Robert Kardashian's widow, Ellen Kardashian, has claimed that Robert told her he was not Khloe's real father, and others have suggested that the true dad may be Jenner's old hairdresser Alex Roldan, who bears a striking resemblance to the Keeping Up With the Kardashians star.