Revealed: Kris Jenner's First Love Cesar Sanudo… As Late Pro Golfer's Family Claims She Cheated With O.J Simpson!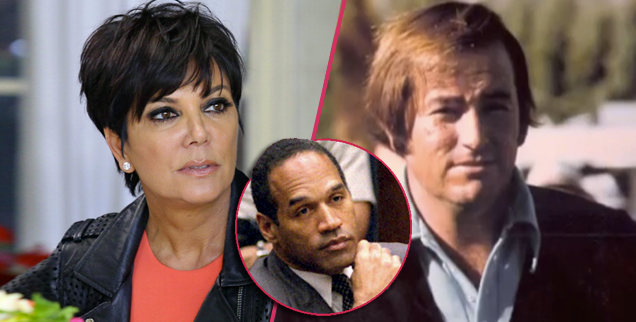 Before there was Bruce and before there was Robert, Kris Jenner hailed Cesar -- Cesar Sanudo, according to the late golf pro's family, who make a number of startling claims about the Momager -- including one that she cheated on him with multiple men, including O.J. Simpson.
The Sanudo family, speaking with this week's STAR, said that they saw a pattern of cheating early on with the beauty, who was 12 years younger than their brother.
Article continues below advertisement
Sanudo's brother Carlos remembers when Cesar, then 29, and Kris, then 17, first hooked up in 1973, calling the future Hollywood powerhouse "an absolute knockout back then.
"Cesar introduced her to a lot of showbiz big shots, and he'd take her to big parties at mansions and on yachts," Carlos said. "In fact, you could say that Kris would never have made her family as big as it is today without the connections Cesar began making for her years ago."
Celebs Who Have Slammed The Kardashians
Eventually, Carlos said, Cesar began suspecting Kris of two-timing him -- and her behavior didn't do much to douse the flames.
"Whenever a bunch of us would be partying over at Cesar's condo while he was out on the road, Kris would hit on any number of guys," Carlos said. "She even made a move on me! Of course, I would never do anything to hurt my brother.
"And I never understood how Kris could do something so lousy."
Article continues below advertisement
Kris cheated on Cesar with her future husband Robert Kardashian, Carlos recalled, leaving no stone unturned in dishing the details.
They Really Did Say It! 50 Outrageous Kardashian Quotes
"Cesar was at a tournament in the South, and he had become so suspicious of Kris that he missed the cut because he was such a mess. He hurried back to San Diego, got home around midnight, went upstairs -- and found Kris in the bedroom with Kardashian!
"Cesar yelled, 'You son of a b***h!' and Kardashian started to cry. Cesar grabbed him and threw him out of the house."
Carlos said that while the couple didn't split right then, it essentially marked "the beginning of the end of their relationship."
While her cheating with Robert was confirmed with Cesar's eyes, Carlos said that her alleged tryst with Robert's running mate Simpson was based on Cesar's suspicions.
Article continues below advertisement
"One night, my phone rang at 2 a.m., and it was Cesar," Carlos told STAR. "He was on the road at a tournament, and he told me he'd been calling Kris all night at his condo, with no answer.
"Then he said, 'I think Kris is screwing O.J. over there! I know she's got something going on with him, and I need you to take the key to my condo and go over there!'
Carlos said he declined his brother's request, half-joking, "I could have been O.J.'s first victim!"
Said brother Rudy: "Kris was a gold-digging snake! She really did a number on my brother."