Kim Kardashian Ripped For Saying 'No Justice' In Trayvon Martin Trial: 'Your Dad Was OJ's Lawyer'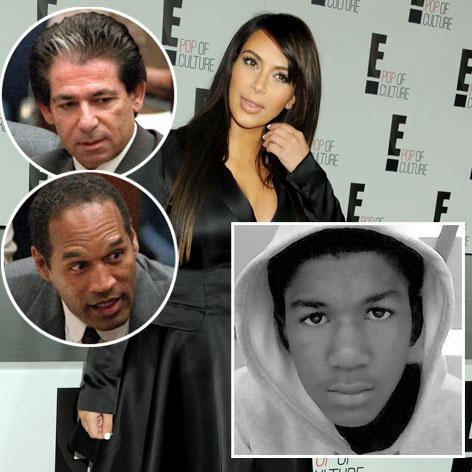 Kim Kardashian is under attack for weighing in on the controversial Travyon Martin murder case verdict with many people outraged that she tweeted "no justice" as a hash tag when her father helped O.J. Simpson get acquitted in his criminal trial for double murder.
George Zimmeran was found not guilty of all charges in the killing of Martin and while that verdict generated outrage there was also some spillover to Kim because of her comment.
Article continues below advertisement
"My heart goes out to Trayvon Martin's family & loved ones. Thought & prayers being sent their way. #nojustice,´ the 32-year-old reality star wrote on Twitter shortly after the verdict.
However, the backlash was swift with people slamming her own father, Robert Kardashian, for his part as the defense team that helped get OJ Simpson acquitted of the murders of his wife Nicole Brown Simpson and Ron Goldman in 1995.
"Kim Kardashian tweeted earlier "#nojustice" about the Trayvon case, but her dad was one of the attorneys that got OJ acquitted of murder," one person pointed out on Twitter.
Robert was part of the "Dream Team" that helped OJ win a not guilty verdict in the trial, but years later even he questioned his client's innocence.
"I have doubts," Robert told ABC News. : "The blood evidence is the biggest thorn in my side."
The attacks continued against Kim for her dad's participation in the polarizing trial.
"Kim Kardashian tweets in support of Trayvon when her own father helped get OJ Simpson acquitted. This country is full of so many idiots," another person slammed.