Exclusive
Denied! Judge Rejects Kardashians Demand For Court Sanctions Against Ex-Stepmom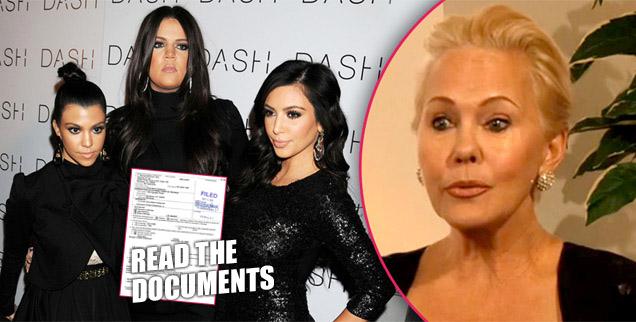 The Kardashians suffered a huge legal setback in their lawsuit against ex-stepmother, Ellen Kardashian, after a judge rejected their attempt to recover $50,000 in sanctions in the ongoing battle over patriarch Robert Kardashian's personal belongings, RadarOnline.com is exclusively reporting.
The Kardashians are asking for $500,000 in damages against their father's widow, in addition to profits, statutory damages, punitive and exemplary damages, claiming Ellen licensed their belongings to Bauer Publishing, which subsequently published the material in their magazines In Touch and Life & Style.
Article continues below advertisement
Ellen was married to the OJ Simpson attorney for two months before his 2003 death, and she recently accused lawyers representing Kim, Kourtney, Khloe, Rob Kardashian, and their momager Kris Jenner of a sustained campaign of "legal bullying," according to legal docs.
The first family of reality television fired back alleging that Ellen's camp "engaged in a calculated effort to avoid and failed and refused to engage in, the requisite meet and confer efforts" — as ordered by the court — before filing a counterclaim lawsuit against her one-time family.
She ultimately filed a defamation lawsuit against the Kardashians in a state court.
The lawyers say Ellen's legal team's conduct caused the Kardashians to "incur significant litigation fees that could have otherwise been avoided," and were seeking a whopping $50,000 in sanctions against Ellen.
In a written ruling obtained exclusively by Radar, U.S.Chief District Judge George King denied the Kardashian's request and said, "We have considered the Parties' briefing in support of this motion. The Motion is DENIED."