Exclusive
Ex-Stepmom Lawsuit Against Kardashians: You're All Liars & Your TV Show Is Fake!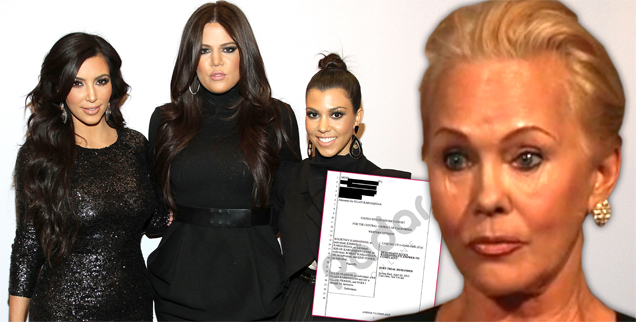 The Kardashians orchestrated the "saga" of filing a lawsuit against their ex-stepmom purely as a storyline for their E! reality show during which they "shamefully" re-wrote history, sensational legal papers filed against the famed television family on Thursday claimed.
Ellen Kardashian, the widow of the children's late father, famed OJ Simpson attorney Robert Kardashian, has filed a motion to allow her to file a counterclaim federal lawsuit against Kim, Kourtney, Khloe and Rob Kardashian and their momager, Kris Jenner, accusing the quintet of a litany of civil offenses, including defamation, intentionally inflicting emotional distress, civil harassment, a civil conspiracy to defame and the public disclosure of private facts.
Article continues below advertisement
As RadarOnline.com reported, Jenner and the Kardashians had previously sued Ellen, who married Robert two months before his death, claiming she had no right to sell details from their father's diaries to a number of magazines.
The journals "exposed Kris as a manipulative and devious mother and ex-wife who simply used and exploited her children," the lawsuit stated.
Ellen's explosive counterclaim centers around the melodrama created by the initial lawsuit, filed in May, which was serialized during episode two of the current season of Keeping Up With The Kardashians.
In it, Kim and her sisters referred to Ellen as a "slippery snake" who was telling "lies" and spreading "rumors" about the family.
But according to Ellen, the Kardashians "crafted" the episode as a form of "damage control" when "vivid details were released to the public which ran contrary to the image Kris Jenner has attempted to portray on Keeping Up With The Kardashians as a loving and caring mother who constantly sacrifices for her children."
Article continues below advertisement
She alleged in court documents: "The Kardashians developed and deployed a 'spin' designed to neutralize the exceptionally negative opinion that Robert had of Kris Jenner.
"The Kardashians' strategy was to neutralize the unrefuted details in Robert's diaries and notes by suggesting that they were in fact fabricated by Ellen. The Kardashians's strategy was to create a fake scenario where 'Robert's story and words' would become the narrative of his surviving widow which the Kardashians would then claim was motivated, not by truth but, greed.
"This shameful rewriting of history by the Kardashians Siblings, at the direction and behest of Kris Jenner, was motivated by profit and is an insult to the legacy of their own father."
The lawsuit will inevitably prompt questions about just how "real" the Kardashian's reality shows are and whether viewers will turn against their shows after being accused of deceiving the audience.
In the documents, filed in the United States District Court in California, the Kardashians were blasted as not having "meaningful careers or professions" who instead "subsist on exposing their perverse private affairs to the world, including "unorthodox sexual acts, extramarital affairs, sex tapes and out of wedlock child birth."
Article continues below advertisement
"The series follows the often sordid, decadent and scandalous lives of the Kardashians," the suit stated.
"The series' phenomenal success is based on a basic premise embraced by the Kardashians in general and Kris Jenner in particular -- to expose their outlandish and controversial activities to world-wide television viewers for commercial profit.
"The success of the series is predicated entirely on the revelation of private information of the most salacious variety, the degree and nature of which must escalate in order to maintain public interest."
In particular, Ellen alleged, the Kardashians fabricated a number of scenes in order to build and maintain drama surrounding the legal situation.
She said the family engaged a "shadowy private investigator" to entrap her, who offered to her "damaging information" regarding Jenner.
The private eye also claimed to have information about Ellen that he "obtained through investigations which were purportedly ordered by Robert Kardashian prior to his death."
Article continues below advertisement
But when Ellen rebuffed the investigator's offers, the Kardashians rouse had failed, it's claimed. As a result, producers were left to air on E! what little information they had to portray Ellen in a negative light.
"In the Episode, the Kardashians repeatedly attribute highly incendiary and provocative statements about Kris Jenner's fitness as a mother to Ellen when they were in fact made by Robert Kardashian about his ex-wife and their mother," lawyers for Ellen, the high-powered Beverly Hills pair Arnold Peter and Marcus Lee, wrote.
They also claimed the Kardashians falsely attributed words written by the late Robert Kardashian as being spoken by Ellen.
Critical to the case will be a number of scenes from the contentious episode: In one, Kim was seen on camera calling Kourtney and Khloe and stating, while on speaker phone, 'Dad's ex says that mom used to beat me and hit me and kick me and likeŠ she claims dad told her'.
"This statement is false because Ellen did not ever make these claims," the attorneys alleged. "These claims were published from a diary and letters written by Robert Kardashian and the Kardashians purposely and falsely attributed the statements to Ellen."
Article continues below advertisement
The diary, the lawyers charged, "reflect the thoughts of a tormented father as he struggled with the devastation of divorce and his family being torn apart by the actions of his former wife Kris Jenner.
"There is no dispute as to the authenticity of the writings. At numerous times during the episode, the Kardashians refer to statements written by their own father and attribute the statement directly to Ellen."
In another scene, matriarch Jenner is seen speaking with an attorney named Todd. After discussing the merits of the case Jenner exclaimed, "Can we just press charges already!"
Railed Ellen's lawyers: "This statement is misleading. The statement implies that Ellen is a criminal and therefore is going to be treated as such by having charges pressed against her."
The Kardashians also made similar accusations via Twitter and to "individual and/or entities in the entertainment industry with the intent of destroying Ellen's reputation," it's said.
Article continues below advertisement
In one Tweet, Khloé wrote to her eight million followers, "How can such a piece of trash even mention my father's name? You married him on his deathbed while he was not even aware of his surroundings" while Kim, writing to her 18 million followers, added, "This woman he Robert Kardashian married 4 (for) 2 (two) wks (weeks) before he died needs 2 (to) get a job instead of trying 2 (to) destroy families w (with) fake stories."
Said the lawyers, "Kimberly made the statement knowing that it was false and that it would debase Ellen's marriage and degrade Ellen¹s credibility to the public."
"As a result of the Kardashians' unlawful conduct, Ellen has suffered damage to her reputation and character, and to her business and ability to earn a living. These damages were caused through no fault of Ellen's but were created by reason of the Kardashians' unlawful conduct meant to destroy Ellen's reputation and ability to earn a living."
Article continues below advertisement
The lawyer representing the Kardashians, Hollywood legal eagle Marty Singer, told RadarOnline.com that Ellen's claims were frivolous and malicious.
"Ellen Pearson's claims are absurd, and her attorneys have been notified that the Kardashians intend to seek recovery of attorneys' fees against them and their client for pursuing such frivolous and malicious claims," he said.
"Pearson's attorneys changed their draft counter-complaint three different times in the past week-and-a-half, not knowing what to sue for, as they tried to create baseless claims."