Exclusive
Kardashians Hired Private Investigator To Trap Ex-Stepmom In Illegal Acts, Charges Lawsuit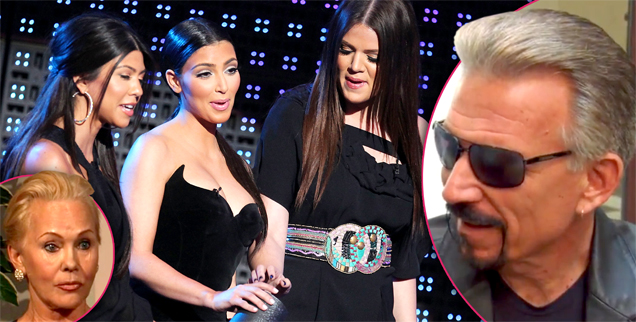 The Kardashians hired a private investigator to trap their stepmother in "unlawful or illicit behavior" according to blockbuster new legal papers filed Thursday against the TV family and obtained by RadarOnline.
Kim, Khloe and Kourtney, along with their mom Kris Jenner orchestrated the entire saga of suing Ellen Kardashian for ratings, the lawsuit charges. And in doing so they used a private investigator to try to set her up in a sting, also to boost ratings for their faked and scripted show, according to the legal papers, in which Ellen is asking a federal judge to allow her to countersue the Kardashian.
Article continues below advertisement
Ellen Kardashian is Robert Kardashian's widow and is now attempting to countersue the Kardashian family. The family filed suit against her after she allowed Robert's diaries to be published and spoke about the contents.
But the Kardashians also created an episode of Keeping Up With The Kardashians around the saga involving Ellen and that episode, called "Enough Is Enough," is the core of the lawsuit she has now attempting to launch against them, apparently agreeing that enough is enough when it comes to the reality TV family using their show to bash her.
The legal papers paint an unflattering portrait of the Kardashians as manipulating events for their show, charging they tried to entrap Ellen with a private investigator, hoping to air the unsavory results.
The PI, using a phony name, tries to entice Ellen into buying negative information on Kris, all as part of the family's scheme for ratings, according to the legal papers, which also charge:
The private investigator, who on the show is identified as Jake Schmidt, sent a "mysterious series" of text messages to Ellen Pearson-Kardashian, starting on March 4, 2013. He tries to entice Ellen by offering to give her damaging information about Kris Jenner. The suit notes the texts are "purposefully ambiguous" but certainly imply the information is for sale. The lawsuit says he disguised his name as "Tom" in this text message.
Article continues below advertisement
(Schmidt is a Beverly Hills private investigator and was also featured on Kourtney and Kim Take Miami when Kim hired him to check up on Scott Disick.)
On March 7, 2013 Jake called Ellen on the phone and "forcefully" tried to convince her to meet so she could purchase the information he claimed to have, the suit alleges. The P.I said he needed the money. Ellen rejected him and suggested her call the media and offer the information.
Jake also texted Ellen on March 7 with the message: "U should know there's a file in here he (Robert) had done of you also. Kid at 15, 4 husbands, bankruptcy." Ellen didn't take the bait and informed Jake the information was all public record.
According to the suit she wanted to end his harassing phone calls and text messages.
Jake again asked to meet with Ellen and again she refused. He then "menacingly terminated the dialogue by threatening to turn the information that he has over to the Kardashians," the suit charges.
MORE ON:
Celebrity Justice
Article continues below advertisement
"Empty handed from his unsuccessful attempt to entrap Ellen, Jake apparently went back to the Kardashians and they were forced to air what little information he was able to gather," the suit alleges.
It all adds up to a seedy attempt by the reality TV family to entrap Ellen, the suit charges, as part of a scheme to create ratings.
The lawyer representing the Kardashians, Hollywood legal eagle Marty Singer, told RadarOnline.com that Ellen's claims were frivolous and malicious.
"Ellen Pearson's claims are absurd, and her attorneys have been notified that the Kardashians intend to seek recovery of attorneys' fees against them and their client for pursuing such frivolous and malicious claims," he said.
"Pearson's attorneys changed their draft counter-complaint three different times in the past week-and-a-half, not knowing what to sue for, as they tried to create baseless claims."
Text messages between Ellen and the private investigator, were filed as part of Ellen's counter-claim on Thursday. See them below.