It's War! Kim & Khloe Kardashian Launch All-Out Attack Against Their Father's Widow For Selling Stories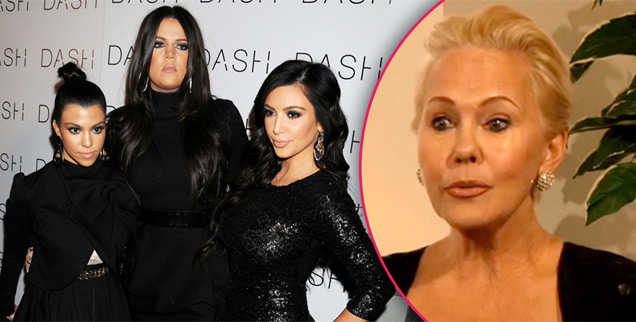 Do NOT mess with the Kardashian sisters! Kim, Khloe and Kourtney Kardashian are furious with their ex-step mother Ellen Kardashian for selling stories about their late father and are now waging an all-out war against her!
"Hope that money buys you water in hell," Khloe blasted in one particularly furious tweet.
Khloe is on a rampage on Twitter, slamming Ellen for giving Robert Kardashian's diaries to a weekly magazine, where he allegedly wrote shocking revelations, including charges that Kris Jenner beat an 8-year-old Kim and that she used to spend all day sleeping after a night out partying.
Article continues below advertisement
A rep for the Kardashians denies all of the allegations, telling RadarOnline.com, "We have no knowledge of these diaries existing and these accusations are ridiculous and not true."
Khloe is more forceful in her comments and on Thursday she let Ellen have it via Twitter. "You should be hiding in shame for all of the lies you sell to tabloids!!" Khloe ranted.
"10yrs after my fathers passing&now that she has filed for bankruptcy... NOW she sells FALSE stories. Hope that money buys you water in hell," she continued.
Her sister Kim is re-Tweeting Khloe's blasts, including another brutal one where she wrote: "How can such a piece of trash even mention my fathers name! You married him on his death bed while he was not even aware of his surroundings."
Khloe also tweeted: "You have no right to even mention our names especially my mothers! We don't know you!!! How dare you spread such lies! You are a disgrace."
The diary entries contain shocking details about the abuse Robert claimed his children were being subjected to at the hands of his then-wife, Kris Jenner, according to the published report.
Article continues below advertisement
"Kris was kicking and beating her and said she was going to kill her!" Robert wrote in an Aug. 24, 1989 entry in his diary, excerpts of which have been published in a weekly magazine.
"Kim was hysterical. Kris then got on the phone and said, 'Kim if you don't get up here right now you are dead!'"
In another disconcerting admission, Robert said Kris would forget to pick up the children from school because she was busy romancing Todd Waterman.
"The whole time she was gone she NEVER asked to talk with her kids!" he wrote Sep. 27, 1989 after a chat with his then-wife.
A different weekly magazine initially broke the story of Kris' affairs in two bombshell exclusive interviews – one with Ellen, and another with Robert's second wife, Jan Ashley, both of whom alleged that Robert said he doubted he was the father of daughter, Khloe.
Kris subsequently admitted to cheating on her late ex-husband, coming clean about her extra marital affairs in her memoir, Kris Jenner…and All Things Kardashian, which was released last September.
Article continues below advertisement