Robert Kardashian Journal Claims Kris Jenner Beat & Kicked Kim When She Was A Child, According To Report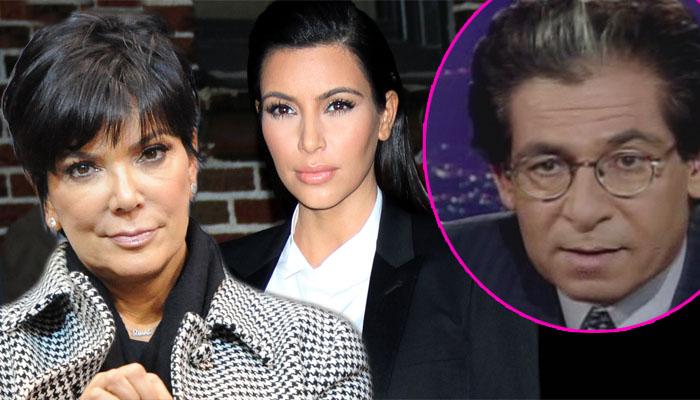 Article continues below advertisement
When contacted for comment regarding the shocking allegations, a rep for the Kardashians told Radar, "We have no knowledge of these diaries existing and these accusations are ridiculous and not true."
In another entry, dated Dec. 15, 1989, Robert expressed anguish over Kris' affair with then-24-year-old tennis hunk Todd Waterman, claiming she'd abandoned their young children for the sake of her sex life.
"She doesn't leave a number in case of emergency," wrote the late O.J. Simpson confidante, who died in 2003 after a battle with esophageal cancer. "She doesn't care! She left the kids and screwed all night!"
On a Christmas day entry later that year, Robert groused that "Kris couldn't get her act together" to be around for the family.
"I was home alone with 4 kids."
In another disconcerting admission, Robert said Kris would forget to pick up the children from school because she was busy romancing Todd.
Article continues below advertisement
"The whole time she was gone she NEVER asked to talk with her kids!" he wrote Sep. 27, 1989 after a chat with his then-wife.
Kris and Robert finally ended their 12-year marriage in 1991. Kris married current hubby Bruce Jenner later that year.
Ellen Kardashian, Robert's widow, gave the writings to In Touch, saying, "They are my personal possessions and he left them to me on his passing."
She said the late attorney wrote the journal "during 1989 and 1990 at a most trying and touching time of his life."
MORE ON:
Robert Kardashian
As RadarOnline.com previously reported, Star magazine initially broke the story of Kris' affairs in two bombshell exclusive interviews - one with Ellen, and another with Robert's second wife, Jan Ashley, both of whom alleged that Robert said he doubted he was the father of daughter, Khloe.
Kris subsequently admitted to cheating on her late ex-husband, coming clean about her extra marital affairs in her memoir, Kris Jenner…and All Things Kardashian, which was released last September.
Article continues below advertisement
However, the Kardashian matriarch laughed off Robert's ex-wife and widow's accusations regarding Khloe's paternity.
"I've never heard such crap in my life," said Kris on Good Morning America shortly after the story broke. "I gave birth. I know who the dad was."
Jenner added, "It's all good. It's the family joke. People, get a life."
RELATED STORIES:
That's A Baby Bump! Pregnant Kim Kardashian Flaunts Growing Belly In Tight Black Dress