Exclusive
Ellen Kardashian: Robert Loved Khloe So Much He Didn't Demand DNA Test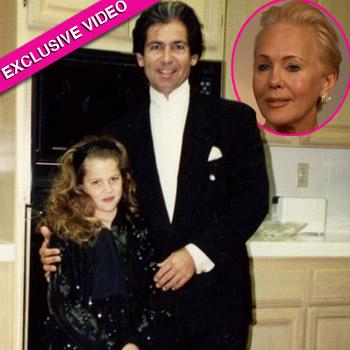 Robert Kardashian's widow broke her silence years after his death with the shocking revelations about his family exclusively to Star magazine, and now we can reveal more exclusive details about her, the Kardashian family and secrets that have been held for years.
Ellen Kardashian, was romantically involved with the famous lawyer for years, got engaged to him in 2002 and married a few months before Robert tragically passed away. She revealed in a tearful interview that she loved Robert very much, and desperately tried to stay in touch with her stepchildren, Khloe, Kimberly, Kourtney and Robert.
Article continues below advertisement
The 63-year-old told Star that Robert expressed doubt about the paternity of Khloe.
"Robert did question the fact that Khloe was his," Ellen said. "Any normal man would if they knew their wife had cheated on him."
Ellen claimed Robert told her that he and Kris Jenner weren't even sleeping together at the time Khloe was conceived, but his love for his daughter kept him from seeking more information.
"He never would have considered a DNA test," Ellen concluded. "He loved her very much."
Robert's bereft widow told Star why she is speaking out now. "I've waited 8 years to give an interview and to tell the truth about how the family was. How the family once was. And talk about my husband and what he stood for and what a great father he was and to talk about the children. A lot has changed.
"I was hurt for a while after Robert passed on when I didn't have any connection at all with the children, because that was a part of him. And I would have liked very much to have stayed in contact with them and I had no idea I wouldn't."
Article continues below advertisement
Since Robert's death in 2003, Ellen fell on hard financial times -- filing for Chapter 7 bankruptcy in 2010 and last October the home that she and Robert shared in Indian Wells, Calif. was sold after going into foreclosure. She also filed for Chapter 7 bankruptcy before meeting her husband in 1992.
However, her love for him still remains strong.
"I wear his ring her engagement ring," she told Star.
"You go through life, you get through, but there's not a day that goes by that I don't think of something funny he did, he made me laugh a lot and you never forget those things. No matter how many years go by you never forget."
radar_embed service=5min.com src="http://pshared.5min.com/Scripts/PlayerSeed.js?sid=1126&width=486&height=412&playList=517713427&sequential=1&shuffle=0"
RELATED STORIES:
Khloe Is Not A Kardashian: Her 'Dad's' Final Confession Revealed