Exclusive
Kris Humphries Fought With Kim Kardashian About How She Treated Her Family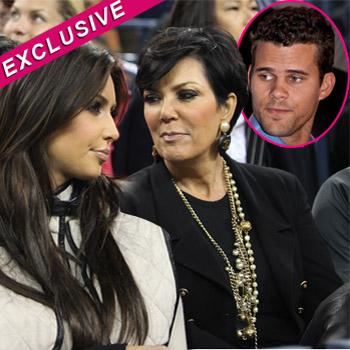 By Jen Heger - RadarOnline.com Legal Editor
During the very brief time Kris Humphries and Kim Kardashian were married, the couple argued about the way the E! reality star spoke to her family, which was often in a very disrespectful and belittling manner, RadarOnline.com is exclusively reporting.
One of the things that attracted Humphries to Kim, was how close she was to her own family, as Kris comes from a very small, close knit family. However, the similarities ended there, as Kim would speak to her momager, Kris Jenner, and siblings, Khloe, Kourtney, and Robert in terms that made Humprhies bristle.
Article continues below advertisement
"Kris just couldn't believe that Kim would speak to her mom with such disrespect, often telling her she had no idea what she was doing, as pertaining to Kris' management of her career," a source close to the situation tells RadarOnline.com. "On one recent episode of Kourtney and Kim Take New York, Kim called Khloe an 'ugly little troll' because she was woken up by her sister, earlier one morning than she liked.
"Kris would NEVER even joke with his parents, nor his sister, Kaela that way. He just wasn't raised that way. Kris tried to approach the subject gingerly with Kim, saying there were other ways to communicate her frustration and anger, rather than using such ugly language, Kim responded by telling him that it was none of his business."
During the recent episode of Kourtney & Kim Take New York, Kim confided to her mom that she was unhappy in her marriage to Humphries during a business trip to Dubai, that took place just weeks after the wedding. Kim didn't want Humphries to go with her on the trip, even though he said on camera that he wanted to go.
Article continues below advertisement
"There's something in my relationship that I feel isn't right," Kim told her mother in Dubai, as the two headed to the airport to go back to the U.S. "And married life isn't what I thought it would be with him: I keep thinking something is off."
As their marriage quickly deteriorated, the arguing only intensified. "Kim got angry at her mom on the phone while they were in New York because of a photo shoot that she had to go to, that she didn't want to do. Humphries was in the room, and told Kim to stop, and that she had diarrhea of the mouth. Kim quickly turned her anger towards her husband and hung up on her mom, which happens all the time," the insider says.