Kim Kardashian Confides To Mom Kris About Failing Marriage On Kourtney & Kim Take New York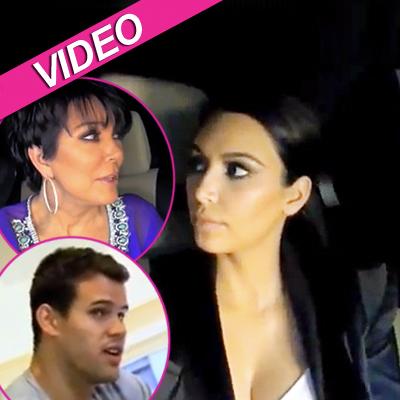 Kim Kardashian, knowing her marriage to Kris Humphries was doomed, bared her soul to mother Kris Jenner during a car ride on a business trip to Dubai during the second half of Sunday's double-episode of E!'s Kourtney & Kim Take New York.
Tension was mounting as Kim continued grousing about her troubled marriage, admitting she was relieved to have a few days away from the NBA baller while on the trip.
Article continues below advertisement
"There's something in my relationship that I feel isn't right," Kim told her mother in Dubai, where they ventured for a Millions of Milkshakes store opening. "I'm learning a lot of things about him that I didn't really know before.
"And married life isn't what I thought it would be with him: I keep thinking something is off."
Jenner was taken aback by the newlywed's lack of devotion for her significant other, noting how she and her late ex Robert Kardashian were "obsessed with each other" for the first decade of their marriage.
"I didn't even want him to go to work ... this is not normal -- that you don't want to go home to your new husband," Kris told Kim, who admitted she was "enjoying this feeling" of separation from Kris.
Sunday's double episode also saw Kris head up to Toronto for a paid club appearance alongside Scott Disick, (unbeknownst to Kim who was furious finding out about it via Twitter); Kim, Kourtney and baby Mason visiting a Connecticut aquarium; and Kim complaining about the paparazzi in the Big Apple.
Article continues below advertisement
Watch the video on RadarOnline.com
As RadarOnline.com previously reported, Kim -- who has final say over the show's editing -- will do her best to present herself "as the victim" and Humphries as "the bad guy" on the program this season, in the wake of their marriage ending after a mere 72 days.
"Kim was stunned by the amount of bad press and the public relations nightmare she has endured since deciding to file for divorce," a source close to the situation told RadarOnline.com. "Kim will be using the show to attempt to rehab her image. Kim has been telling her inner circle that she has worked very hard to get where she has, and she isn't going to let her marriage and subsequent decision to divorce Kris Humphries ruin that."