Kris Humphries Busted By Kim Kardashian After House Party On 'Kourtney & Kim Take New York'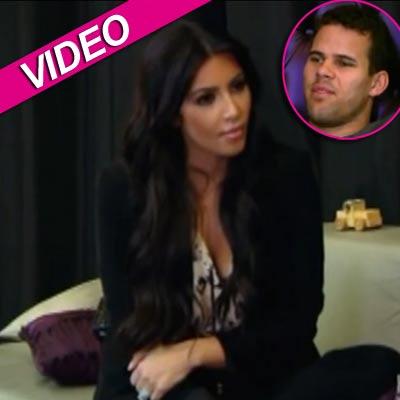 Kim Kardashian and Kris Humphries clashed over house rules on Sunday's episode of Kourtney & Kim Take New York -- pointing to why the couple's marriage was doomed to just 72 days -- and RadarOnline.com has the video.
The estranged husband and wife butted heads after Kris threw a party at the suite they lived in at New York's Gansevoort Hotel, while Kim and Kourtney traveled to their native Los Angeles on business.
Article continues below advertisement
When the wiry NBA forward said he wanted to invite a few pals over, Kourtney and Kim told him that was forbidden. After Kris unsuccessfully tried to get the support of Kourtney's partner Scott Disick, he called him "whipped."
With the girls off to the city of angels, Kris told Scott over a drink, "You're just like Bruce Jenner and all the other...whipped Kardashian men," adding, "It's better to die on your feet than live on your knees, bro."
Kris, essentially foreshadowing his own fate, said in an off-camera interview, "Kim and Kourtney think they're going to make the rules around here, and I want to show them that they don't."
With that, Kris went along and had the raucous bash (later chronicled in a set of tweets by a party goer). Of course, Kim found out about it, and was predictably furious, saying, "I honestly am going to kill Kris."
Article continues below advertisement
Thankfully she was kidding -- but she still gave him a talking to letting him know it's her way or the highway.
"No one is allowed in our suite!" Kim told him. "This is our private space."
Kris said, "Next time..."
"There won't be a next time," Kim warned him.
The pair later kissed and made up, but again, viewers got a distinct look at the virtually-dysfunctional relationship the two shared, leading to their abrupt divorce.
As RadarOnline.com first reported when photos of Kris partying with other women hit the web, video cameras were rolling the whole time and it was sure to be a featured incident on the hit E! show.
Earlier this month, in his first TV interview since his divorce was announced, Kris stayed mum on Kim, saying he's "just moving forward" with his life and is focused on his future in the NBA. (He has yet to sign with a new team this season, which begins December 25).