Exclusive
Will Kourtney Kardashian Do It For The Camera Like Sister Kim?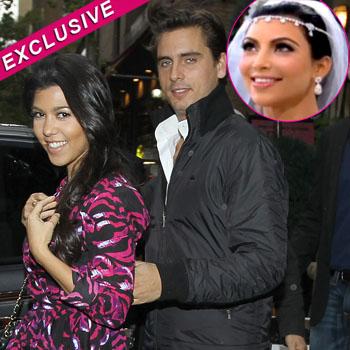 By Alexis Tereszcuk - Radar Senior Reporter
Is Kourtney Kardashian going to follow in her little sister's footsteps and do it for the camera like Kim did?
Since Kourtney announced her second pregnancy, rumors have been rampant that she's going to marry her baby daddy and film the ceremony for TV, just like her younger sister Kim did, but RadarOnline.com has learned that she isn't planning to tie the knot just yet.
Article continues below advertisement
"She wanted her kids to have the same father," a source close to the oldest Kardashian sister told RadarOnline.com. "I don't ever see them married or staying together much longer after this one is born."
Kourtney, 32, and her current beau Scott Disick, 28, are already parents to the adorable little Mason, but just because they're going to be parents again don't expect them to rush down the aisle.
"They aren't planning to have a wedding," the source said, but went on to point out that things with the Kardashians can always change. "If they do it, it is just another PR stunt. They totally planned this pregnancy around Kim's wedding, they will do anything for fame.
With the season two premiere of Kourtney and Kim Take New York scoring a whopping 3.2 million viewers, the lure of high ratings might be too much for them to ignore.
"Even though they say they don't want a wedding right now, they might give in for the sake of publicity, and ratings, and go ahead and do it."
As RadarOnline.com previously reported, despite calls for a boycott of all things Kardashian, Kim and Kourtney's reality show, reality show Kourtney & Kim Take New York was a ratings smash hit Sunday.
Article continues below advertisement
When Kim filed for divorce from Kris Humphries after just 72 days of marriage the backlash was swift and intense from fans and haters alike, even causing Kim to defend herself on her blog from reports that the $18 million wedding was all a publicity stunt.
But it worked, because the season two premiere of Kourtney & Kim Take New York, pulled in a whopping 3.2 million viewers, up from the first season number of 3 million!