Exclusive
Was Kris Humphries Getting Caught With Girls While Married To Kim Kardashian Just A Publicity Stunt?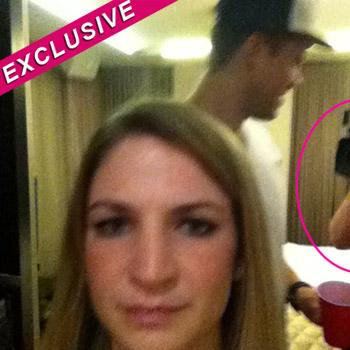 By Amber Goodhand - Radar Reporter
While it appears that Kris Humphries was caught partying with a bevy of blondes in the New York suite he shared with then-wife Kim Kardashian, RadarOnline.com has exclusively discovered that E! cameras were rolling during the incident.
In a photo posted in September by Twitter user "shellmerci", Humphries is seen in the background while the blonde snaps a photo, but also snapped is a large production camera in the upper right hand corner, clearly filming everything.
Article continues below advertisement
Leading to the question: Is the entire "cheating" scandal a set-up for their hit show, Kourtney & Kim Take New York?
RadarOnline.com published the photos and videos posted by the Twitter user that allegedly partied with Humphries that night at the upscale Manhattan hotel he shared with Kim, the Gansevoort, in which several girls are giggling as they flaunt monogrammed cloth with the initials "KH" and "KK."