Awkward! Kim Kardashian & Kris Humphries Discuss Having A Baby On Reality Show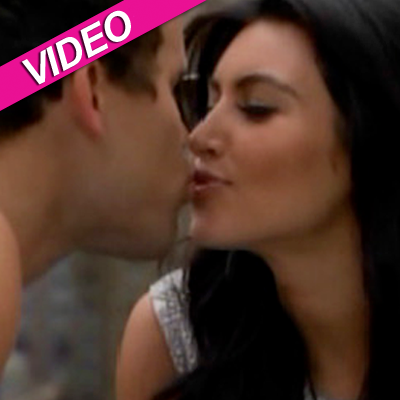 Talk about awkward! Kim Kardashian and Kris Humphries discussed having a baby on Sunday night's episode of E!'s Kourtney & Kim Take New York.
"I feel like your life really starts when you start have kids," Kim said, before telling Kris, "I'm like 30-years-old, I'm kinda ready."
He responded, "Let's do it. I'm excited, I really want to;" in an off-camera interview, he confided, "Family's really important to me, so we'll just kind of see what happens."
Article continues below advertisement
Kim later said that "real success in life is having kids, finding your prince charming and falling in love and settling down."
In discussions after their decision, the two disagreed over where to raise the child, as Kris was pushing for his home state of Minnesota.
"I want my kids to grow up with my sister's kids, they could spend a month in the summer in Minnesota," Kim told Kris. "I'm not moving to Minnesota."
An issue Kris took exception with was Kim's whirlwind work schedule, and how she'd have to put the brakes on it for the sake of the baby.
"I think you need to cut out some of that stuff," the NBA baller told her. "I am not having a nanny spend the majority of the time with our child."
This was hardly music to Kim's ears, who said she couldn't believe Kris would be expecting her to slow down.
Then Kris really dropped the hammer, telling Kim, "By the time you had kids and they are in school no one will really care about you."
Article continues below advertisement
After some discussions with confidantes who have little ones -- Kim with LaLa Vasquez and Kris with Scott Disick -- the episode ended on an awkward note, with Kim having second thoughts about kids, while Kris was warming up to the idea.
"I am confident that Kim and I can handle it," he said.
Watch the video on RadarOnline.com
As RadarOnline.com has previously reported, Kim filed for divorce on Halloween after only 72-days of marriage.
Last week, in his first TV interview since his divorce was announced, Kris stayed mum on Kim, saying he's "just moving forward" with his life, focused on his future in the NBA.
Kourtney & Kim Take New York airs on E! Sundays at 10/9c.