Kris Humphries Asked 'Do You Still Love Kim?' On GMA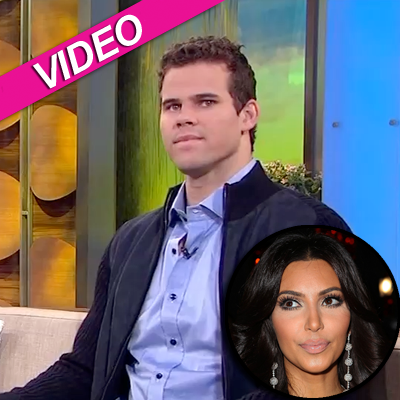 By Neil Woulfe - RadarOnline.com Senior News Director & Adam S. Levy - RadarOnline.com Staff Writer
Kris Humphries finally broke his silence Friday about his much-publicized split with Kim Kardashian after only 72 days of marriage.
The free-agent NBA power forward appeared on Good Morning America and was asked point blank by the show's Josh Elliott if he still loved Kim; he artfully dodged the question and repeatedly said he's "just moving forward" in his life in wake of the shockingly fast break-up.
Article continues below advertisement
"I'm focused on just what I can control," he said, "which is being ready to play ball and supporting my mom and her cookie baking."
Under terms of a prenuptial agreement – which he is fighting - Humphries is not allowed to speak in detail about his relationship with Kim, but he did talk about his life post-Kim.
Humphries, accompanied by his mother Debra, appeared on a segment in which they baked cookies. He said he's been spending time with family in Minnesota and working on his game in hopes of signing with a team, now that the NBA lockout is over.
"It's been different," the deep-voiced baller said. "I'm just focused on family and preparing for basketball … just moving forward," he said.
Watch the video on RadarOnline.com
Humphries avoided getting into any detail when asked about filing for annulment.
"I'm really right now focused on basketball and other things will take care of themself, you know," he said. "For most people, camp starts today, 4 p.m. Hopefully I'll be on a team soon and ready to go."
Article continues below advertisement
Asked her thoughts on her son's life in the fast lane, Debra said, "I think for us the important thing is to stay close as a family through the ups and downs that come.
"It's our faith in God carried us through all these times. We try to focus on being thankful for things and being positive. ... We're not trying to look back, we're trying to focus on moving forward."
Humphries said he was unsure if having the cameras around impacted the relationship.
"It's the only time I've been married," he told the show. "I've been in front of cameras on the NBA since I was 19."
With the collapse of his marriage currently playing out on the reality TV show Kourtney and Kim Take New York, Humphries said he hasn't been watching.
"The thing for me, the only things I watch of myself is playing basketball, games films, stuff like that," he said. "I've never been someone who really watched the show on TV. For me, my focus is just basketball, my foundation, family and moving through life."
Article continues below advertisement
Asked if his image has endured a beating in the wake of the media frenzy and TV show, Humphries seemed confident people have a positive image of him.
"I think if people know me and know who I am and what I stand for, I think they'll know I love to give back. I'm a fun guy. I don't really play into all the gossip that takes place. It's life."
As RadarOnline.com has previously reported, Kim filed for divorce from Humphries on Halloween after 72 days of marriage, citing "irreconcilable differences."