Khloe Kardashian Gets Big Welcome To Dallas By Big Al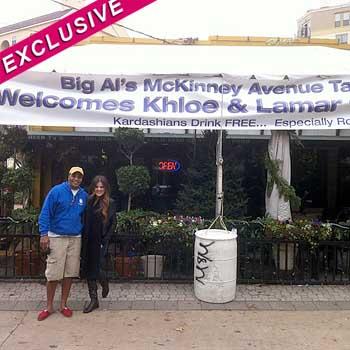 Khloe Karsashian has arrived in Dallas, and Dallas is loving her.
Out this weekend looking at apartments to rent, she caught sight of a sign on a bar, and just HAD to stop in.
"Big Al's McKinney Avenue Tavern Welcomes Khloe & Lamar -- Kardashians Drink FREE...Especially Rob" says a massive banner hanging outside the sports bar.
The delighted wife of the Dallas Maverick's newest player, Lamar Odom, couldn't resist. She stopped and even posed for pics with Al.
Article continues below advertisement