Kim, Kourtney & Khloe Kardashian 'Still Carry The Scars' From Rocky Childhood With Mom Kris Jenner, Claims New Report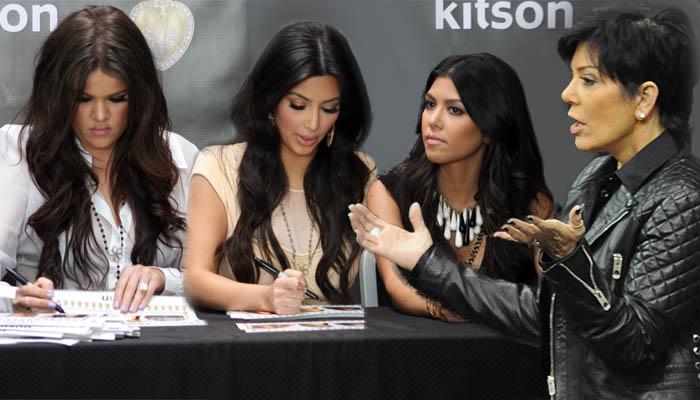 The late Robert Kardashian's journals are revealing deep dark secrets about his troubled marriage to Kris Jenner and her fractured relationship with her daughters, Kim, Kourtney and Khloe, according to a bombshell new report in In Touch Weekly.
The diaries, written between 1998 and 1990, as the O.J. Simpson confidante's 12-year marriage to Jenner was imploding amid claims of extra-marital affairs and lavish spending, paint a damning picture of life with the reality TV matriarch and a rocky childhood for her young girls — the effect of which, a source says, effects them to this day.
Article continues below advertisement
A rep for the Kardashians denies all of the shocking allegations, telling RadarOnline.com, "We have no knowledge of these diaries existing and these accusations are ridiculous and not true."
According to the journals, Jenner would hide out in her bedroom for days at a time to sleep off the effects of hard partying and avoiding her young children. In one entry, dated September 1989, Robert alleges his daughters called him crying numerous times after their mother forgot to pick them up from school because she had left for places like Mexico or Palm Springs with her much younger alleged lover, Todd Waterman. "The whole time she was gone she NEVER asked to talk with her kids," he wrote.
The diary, which was shared with In Touch Weekly by Robert's widow, Ellen Kardashian, claims Kris frequently took her anger out on her daughters, something the girls, especially her oldest, Kourtney, still resent to this day, a close source tells the magazine.
"Kourtney has been the angriest with her, especially now that she has her own kids," the source claims. "She has had a hard time understanding the choices her mother made, and definitely holds a lot of resentment. They may not have publicly revealed their rocky childhoods, but they still carry the scars.
Article continues below advertisement
"The girls definitely don't have any respect for their mother; that's why they call her Kris most of the time."
As RadarOnline.com previously reported, Star magazine initially broke the story of Kris and Robert's troubled marriage in two bombshell exclusive interviews – one with Ellen, and another with Robert's second wife, Jan Ashley, both of whom alleged that Robert said he doubted he was Khloe's father.
Kris subsequently admitted to cheating on her late ex-husband, coming clean about her extra marital affairs in her memoir, Kris Jenner…and All Things Kardashian, which was released last September.
However, the Kardashian matriarch laughed off Robert's ex-wife and widow's accusations regarding Khloe's paternity.
"I've never heard such crap in my life," said Kris on Good Morning America shortly after the story broke. "I gave birth. I know who the dad was."