Exclusive
Kris Jenner Demanding Kanye West Take out A $10 Million Dollar Life Insurance Policy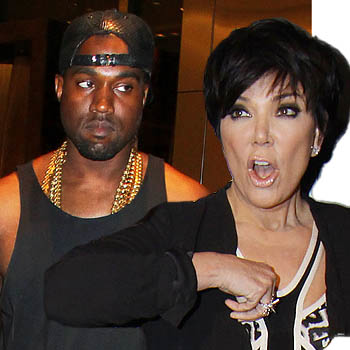 Kris Jenner is demanding that Kim Kardashian's boyfriend and baby daddy, Kanye West, take out a $10 million dollar life insurance policy, RadarOnline.com is exclusively reporting.
"Kris has made it known to Kim and Kanye that she expects the singer to take out a hefty life insurance policy, naming their baby as the primary beneficiary and Kim as second," a source close to the situation tells Radar. "Kanye is absolutely on board with getting the policy and had actually already looked into it before Kris brought it up. Kanye is in perfect health but he travels a lot and performs all over the world, sometimes in not so safe locales, and that concerns Kris. It's basically just good sense, and pretty common procedure for new parents, though not usually for such a high amount! Kim will also be taking out her own life insurance policy naming the baby as the beneficiary."
Article continues below advertisement
As RadarOnline.com previously reported, the reality star and the rapper are already in full nesting mode as they prepare for the birth of their first child together — recently splashing out a cool $11 million for a mansion in the elite SoCal neighborhood of Bel Air.
The super-couple plans on demolishing the current 10,000 square foot home that stands on the grounds to erect a 14,000 square foot Italian villa with amenities such as a bowling alley, basketball court, salon, theater, gymnasium and more. Among their new neighbors: A-lister Jennifer Aniston, 90s "It girl" Sarah Michelle Gellar and Girls Gone Wild entrepreneur Joe Francis.