Exclusive
Kim Kardashian Fumes That Estranged Hubby Kris Humphries Is 'Ruining Her Life'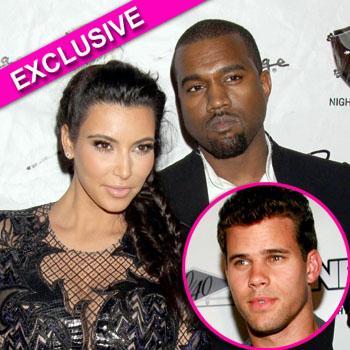 Article continues below advertisement
"Kim is seeing red because she is still legally married to Kris Humphries. Kim is overjoyed at the news that she is pregnant with Kanye's baby, but she isn't able to fully embrace it because of Kris. Kim feels that Kris is hell bent on dragging her name through the mud by prolonging the divorce proceedings," a source close to the situation tells RadarOnline.com exclusively.
"Kim knows that she most likely will still be married to Kris when she gives birth to Kanye's baby, and that absolutely sickens her. Kim has been pressuring her attorney, Laura Wasser, to get Humphries to sign off on the divorce, to no avail. Kris is holding the position that if Kim grants him an annulment on the grounds that the marriage was a sham, this whole thing ends. However, Kim won't give in to his demands because it would damage her brand," the insider added.
On Friday, February 15 - the day after Valentine's Day - Kim and Kris' divorce lawyers will be in court setting a date for the trial. The earliest the trial can be scheduled would be the middle of June to accommodate Kris' basketball schedule. His team the Nets is now in second place in its division, and the play-offs don't end until June. Kim, who's 12 weeks pregnant, is due at the end of June.
As RadarOnline.com previously reported, the reality starlet's rapper boyfriend announced Kim's pregnancy at his concert in Atlantic City last Sunday night.
Article continues below advertisement
Meanwhile, Kardashian was in Sin City for New Year's Eve, and she told Entertainment Tonight that she hasn't had any morning sickness. "I wouldn't say it has been easy, but no morning sickness," the Keeping Up with the Kardashians star said.
"It is not as easy as people think," she added while doing red carpet duties at 1 Oak nightclub.
Humphries and Kardashian's ill-fated marriage lasted a whopping 72 days, and the NBA player wants the 20.5 carat Elaine Schwartz diamond ring he gave to his estranged wife back. Kim is refusing to return the $2 million dollar bauble to Humphries.