Kim Kardashian Isn't The Only One! 10 Stars Who've Had Children Out Of Wedlock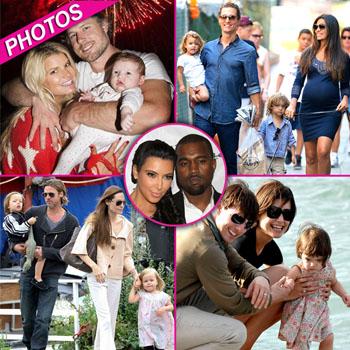 Kim Kardashian and Kanye West aren't the only Hollywood stars to make babies before making itdown the aisle!
The reality star, who's still married to NBA player Kris Humphries and her rapper boyfriend, have joined an ever-growing group of famous folk who opted to have children without taking a walk down the aisle. RadarOnline.com has photos of 10 other stars who've had children out of wedlock.
Article continues below advertisement
Jessica Simpson and Eric Johnson announced their engagement in November 2010, but the couple didn't make it to the altar before the mega-star got preggers! Simpson confirmed they were having a baby the following October, intending on walking down the aisle with the former football player after Maxwell Drew was born, but mother nature had other plans for Jess. The 32-year-old announced her second pregnancy in December 2012 and has yet to confirm if she and Johnson will wed before the baby is born.
Halle Berry never got engaged or married to model Gabriel Aubry, who is the father of her gorgeous girl Nahla, and Bridget Moynahan had already split up from her baby daddy Tom Brady, when she announced she was pregnant with their child.
Jamie Lynn Spears got knocked up when she was 16 with Casey Aldridge's child, and though the couple got engaged, they never made it to marriage.
After putting together one of the biggest broods in Hollywood, Angelina Jolie and Brad Pitt finally decided it was time to take their relationship to the next level, with Brad putting an engagement ring on Angie's finger in 2012.