Exclusive
Kris Humphries Legal Team Will Subpoena Kanye West To Testify In Divorce Proceedings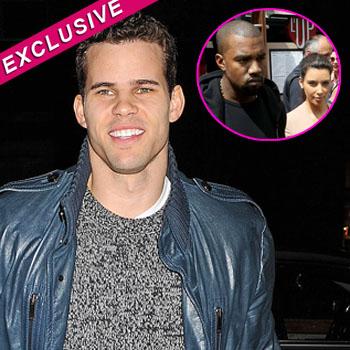 Article continues below advertisement
A source close to the station tells that us Team Humphries hadn't planned on delving into Kim's romantic relationship, but now, it's fair game.
"The gloves are clearly off now," the source says.
"Kris lawyer, Lee Hutton, has no choice but to depose Kim's new boyfriend, Kanye West. Kim has publicly said that she and Kanye have been friends for years, and Kris' lawyers want to know if the two were ever intimate before they went public with their relationship a few months ago. Kris has no reason to believe that Kim was unfaithful to him during their very short marriage. Of particular interest to Team Humphries is Kanye's involvement in the Kardashian reality shows as he appeared on an episode of Kourtney & Kim Take New York. Kris lawyers will delve into if Kanye's appearance on the show, and what his involvement in the shows are going forward. Kris believes that Kim felt tremendous pressure to get married to him on camera, and this goes to the heart of his claim that the marriage is fraudulent," the source added.
Meanwhile, Kim and Kris' upcoming depositions won't be filmed. The E! reality starlet's deposition will take place in Los Angeles at her lawyer Laura Wasser's office, while Humphries' will be conducted in Minnesota, and both are scheduled to take place in the next several weeks.
"Both parties mutually agreed that it wasn't necessary to have Kim and Kris' deposition filmed," the source previously told us. "There will be a private stenographer present that will provide a transcript of the proceedings. There was concern about the depositions being filmed and then getting leaked to the media. To ensure that won't happen everyone recognized and agreed to not have proceedings filmed. However, Kris' lawyer, Lee Hutton has told Laura Wasser that they absolutely intend to ask that cameras be permitted in the courtroom when this divorce goes
Article continues below advertisement
to trial.
"Kim is just livid that she has to be deposed. She has tried to get out of it, but there is no way she can," the source adds. "Kris is ready for his deposition to be taken and just wants the truth to get out about what he says really happened when they were dating and after the wedding," the source reveals.
Once the depositions take place a trial date will likely be scheduled for later this year.