Exclusive
Kim Kardashian Wants Divorce Finalized ASAP So She Can Marry Kanye West!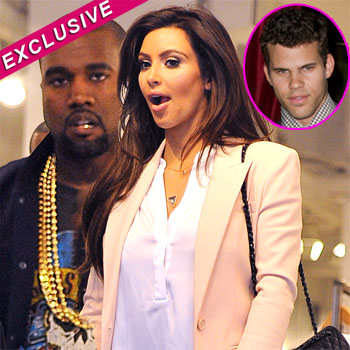 By Jen Heger - Radar Assistant Managing Editor
Kim Kardashian is growing increasingly impatient with the ongoing divorce proceedings with her estranged husband, Kris Humphries, because the reality TV star is talking marriage with her boyfriend, hip-hop superstar Kanye West, RadarOnline.com is exclusively reporting.
"There is going to be a scheduled status conference on Wednesday for Kim and Kris' divorce. Kris has already been deposed, but Kim hasn't been yet. Kim has told her lawyer that the case is dragging because Kris is determined to keep his name in the press and drag her name through the mud. Kim is ready to get engaged to Kanye, but doesn't want to until her divorce is finalized," a source close to the situation tells us.
Article continues below advertisement
"Kim feels that Kanye is the man she is going to spend the rest of her life with, and she doesn't want to wait. Kim's deposition will likely take place in the next few weeks, but she feels nothing is going to be gained by it," the source added.
As we previously reported, during the course of Kim's romance with her soon to-be-ex-husband, the reality star would constantly nag the basketball player about his two dogs, a Yorkshire Terrier named Gizmo and a Chihuahua named Brodi because he allowed them to sleep on his bed, and he refused to put them outside as she insisted. Humphries contends that he was duped into marrying Kim last year and that their marriage was a fraud.
Kardashian's lawyer, Laura Wasser, has told Team Humphries, if he loses at the divorce trial, "He will have to pay her legal fees. This doesn't phase Kris at all, as he just signed a very lucrative contract with the Brooklyn Nets. Kris is in no rush at all for the divorce to be finalized, he just wants the truth to come out. Kris will see this through to the end, which for him, will be a very public divorce trial, and this isn't about the money. The only way this doesn't go to trial is if Kim admits the marriage was a sham and publicly apologizes to Kris and his family, which she has no intention of doing," the insider tells us.