Exclusive
Kim Kardashian's Mom, Kris Jenner, Brokered Sex Tape Sale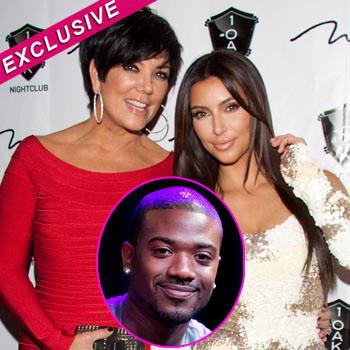 Kris Jenner was willing to do whatever it took to catapult the Kardashian family name into stardom, and one family insider exclusively reveals she even spearheaded the sale of daughter Kim Kardashian's infamous sex tape in 2007.
"Kris was totally involved in arranging the sale of Kim's tape," the source told Star magazine of Kim's on-camera tryst with then-boyfriend Ray J.
"The video already existed, and Kris was there every step of the way as a middleman brought in to market it to an adult entertainment company."
Article continues below advertisement
The title of the adult flick released from Vivid Entertainment was Kim Kardashian, Superstar, which the source said had Kris over the moon.
"That must have thrilled Kris since you could hardly call Kim a household name at that point in time," the insider said.
Despite denials that Kris had anything to do with the release of Kim's sex tape, and Khloe Kardashian calling the idea "disgusting and disturbing," the source passed a polygraph test with Star magazine.
"I saw Kris Jenner's signature on the contract; I believe she got somewhere between $250,000 and $500,000 for the original deal with the middleman," the source said.
As RadarOnline.com was first to report, the Kardashian's former nanny Pam Behan said, "I believe Kris was grooming her children for their current celebrity status their entire lives... I do believe that the success they enjoy now is what she always hoped for and wanted for them and for herself."
MORE ON:
Vivid Entertainment
Article continues below advertisement
Meanwhile, Kris' never-ending drive for fame and wealth are coming at a great cost, the insider said.
"Everything she does in this world, every decision she makes on her daughters' behalf, is based on greed and publicity," the source said.
"And has nothing to do with her family's stability or happiness."
To find out more about Kris' hand in the sale of Kim's sex tape, pick up the new issue of Star magazine on newsstands Thursday.