Exclusive
Kim Kardashian Hates Dogs, Thinks They Are 'Dirty & Messy' But Does Like Them For Photo Ops!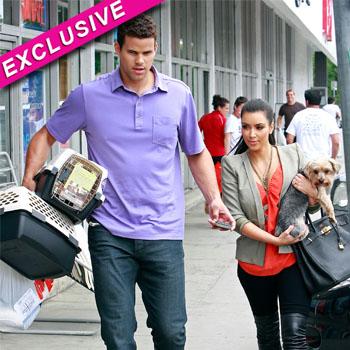 Article continues below advertisement
"Kim doesn't like dogs at all, but did love to have her picture taken publicly with Kris' dogs though when they were together," a source close to the situation tells RadarOnline.com. "The dogs were a constant source of stress during Kim and Kris' relationship. Kris has had the dogs since they were puppies and he has loved them like his children. Kim wanted the dogs to be kept outside whenever they were together. Kris wouldn't allow it because they are small dogs and aren't outdoor dogs. Kim thinks dogs are dirty and messy, and she is a complete neat freak."
Kim and ex-boyfriend, Reggie Bush got a dog together when they were dating, a Boxer they named Rocky, but Kim isn't exactly scrambling to spend any quality time with the pooch.
"Kim and Reggie essentially share custody of Rocky, but he is now spending a majority of his time with Bush. Now that Kim is dating Kanye West, she hasn't been as involved with Rocky. In the past, whenever Reggie had been unable to take care of him, Rocky would usually ends up at Kim's mom's house. Kim has rarely had Rocky actually inside her mansion because he would just make a mess, she believes, so she carts him off to her mom's when necessary," the insider revealed.