Kris Humphries Makes Young Cancer Girl's Dream Come True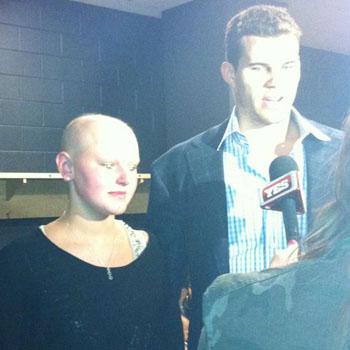 By Amber Goodhand - RadarOnline.com News Editor
Kris Humphries made good on a promise to a 16-year-old cancer patient by having her come to a New Jersey Nets game and meeting up with her afterwards, RadarOnline.com has learned.
Kaely Kwitek, who is suffering from stage 4 Anaplastic Large Cell Lymphoma, made the trip to New Jersey earlier this week where the NBA star made her dreams come true.
After enjoying the game, the Orchard Park, New York native met up with Kris in the locker room and the two did a few local interviews and took some photos — one of which is now proudly displayed as Kaely's Facebook profile picture.
Article continues below advertisement
Kris Humphries Slams 'Publicity Hungry' Kim Kardashian: 'Is There Anything You Won't Do?'
Bruce Jenner Doesn't Approve Of Kim Kardashian & Kanye West: 'I'm Not That Excited'