Exclusive
Kris Humphries To Kim Kardashian: Which Charities Are Getting Our Wedding Gifts?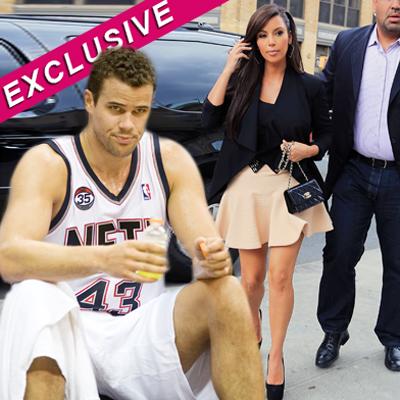 Radar Assistant Managing Editor
Kris Humphries' divorce attorneys are asking Kim Kardashian to give a detailed report about which charities the reality star plans to donate their wedding gifts to, and why she decided not to return the gifts directly to the people who bought them, RadarOnline.com is exclusively reporting.
Kardashian recently announced that she was going to be donating some of their wedding gifts to charity, along with making a contribution to a charity of her choice for double the value of the gifts, instead of sending the presents back to those who purchased them.
Article continues below advertisement
"Kris wants to know exactly which gifts are being given to which charity and why weren't the presents simply returned? Kris just can't fathom why Kim wouldn't just do the right thing and return the gifts to their guests," an insider tells RadarOnline.com. "He wasn't given any consideration or any allowed any input regarding Kim's decision, and the gifts were given to both of them not just Kim. Kris still wants Kim to return the gifts, period. It's the right thing to do because the marriage just didn't last."
As we previously reported Humphries also wants to know if his soon-to-be-ex-wife's relationship with music mogul Kanye West is just another a publicity stunt, to help aide his argument that their marriage was a fraud and just for the cameras.
Humphries' divorce attorneys plan on grilling Kim about her new relationship during the potential upcoming divorce trial that the NBA star is pushing for.
"The crux of Kris' case for annulment is that Kim married him under fraudulent pretenses and did it for her reality show. Team Humphries wants to know if producers of the Kardashian reality shows were in contact with Kanye West prior to the new couple dating or going public with their relationship and what those conversations consisted of," a source close to the situation previously told Radar. "When did Kim develop romantic feelings for Kanye and why after publicly stating she wouldn't feature any future romantic relationships on her reality shows, did she do a complete 360?"
Article continues below advertisement
Meanwhile, the former couple, who have now been haggling over their divorce for longer than their 72 day marriage lasted, haven't spoken to each other in months.
"It's sad that they can't even be amicable or friendly because Kris did truly love her and has only wanted the best for her," the source said. "He is no longer in love with her though, he has moved on and is definitely enjoying being single. He is dating again but no one serious because the divorce is a long way from being made legal and he isn't ready to get serious with anyone at this point. Surprisingly, Kris hopes that Kanye isn't using Kim for publicity because, again, he doesn't want to see her hurt."