Their New Crib! Pregnant Kim Kardashian & Kanye West Buy Bel Air Mansion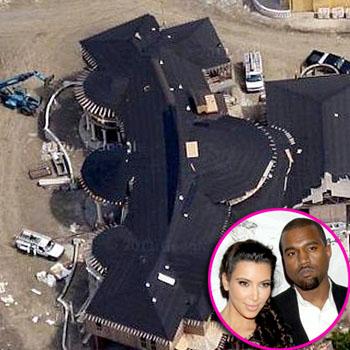 Bel-Air already had a Fresh Prince; now it has a king and queen.
Kim Kardashian and Kanye West, who are expecting a baby, have plunked down $11 million for a mansion in the elite SoCal neighborhood, RadarOnline.com has learned.
According to reports, the super-couple plans on demolishing the current 10,000 square foot home that stands on the grounds to erect a 14,000 square foot Italian villa with amenities such as a bowling alley, basketball court, salon, theater, gymnasium and more. Among their new neighbors: A-lister Jennifer Aniston, 90s "It girl" Sarah Michelle Gellar and Girls Gone Wild entrepreneur Joe Francis.
Article continues below advertisement
As we previously reported, news of Kim's pregnancy leaked during papa-to-be Kanye's concert at Atlantic City's Revel Resort last month, when the hip-hop king called Kim "my baby mama" during the show, telling her, "Now you having my baby!"
Kim, 32, and Kanye, 35, have been dating since March. Kim, who's 13 weeks pregnant, is technically still married to Brooklyn Nets forward Kris Humphries.