Exclusive
Kim Kardashian Wants To Give Kris Humphries Annulment, But Momager Kris Jenner Says 'No!'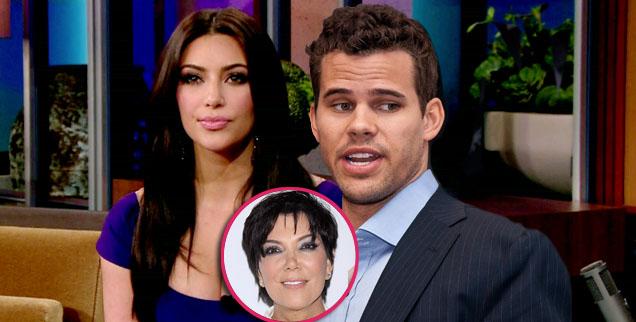 Article continues below advertisement
"Kim's baby daddy, Kanye West, doesn't understand why she hasn't already just given Kris the annulment. Kim's momager, Kris Jenner is adamantly protesting to her daughter's idea because of the possible ramifications it could have for the Kardashian empire. Kris is concerned about the negative press and criticism Kim will get if she goes through with it. Kris' main concern is how E! would react to Kim's decision since the network aired their wedding special," the insider added.
In an interview with Shade 45's Sway in the Morning Show, the 32-year-old reality star, who was joined by her older sister, Kourtney, opened up about her pregnancy in regards to her ongoing divorce drama with Humphries.
"In a perfect world of course I would love to be divorced," Kim, who dominated the interview, admitted when asked about the scenario. "It is going on its second year. And that's really tough just because I want to move on with my life.
Article continues below advertisement
"When people say things like why are you having a baby when you're married to someone else… If someone really knew all the fertility problems and the things that I was going through," Kim said. "God brings you things at a time when you least expect it. I am such a planner and this was just meant to be."
She continued, "What am I gonna do? Wait years to get divorced? It's such a process. Technically we are legally separated." The reality star also denied that she married Kris under fraudulent pretenses.
Kim maintains that she did, in fact, love her husband, and that she ended the relationship because she realized that he was not the right person for her.
"He was someone that I loved a lot, but you can love someone a lot and then realize they are not the right person for you," she insisted. "And I would have rather ended it when I felt that way then waste a year of my life not being happy. For him too."
Article continues below advertisement