Sanction Her! Kardashians Demand Los Angeles Court Issue A $50K Fine Against Ex-Stepmom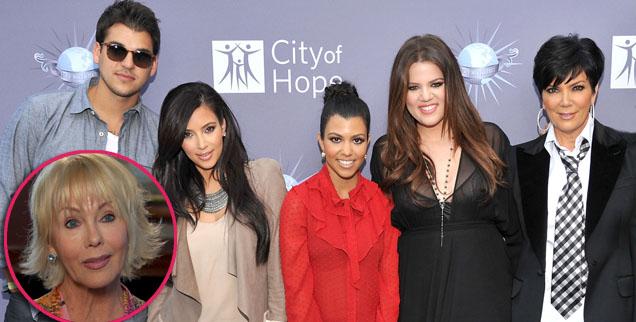 The gloves are off in the bitter legal battle between Robert Kardashian's widow and her ex-step-children over the famed lawyer's leaked journal, private photos and alleged staged scenes on the the family's E! reality television show.
Ellen Kardashian, who was married to OJ Simpson attorney Robert Kardashian for two months before his 2003 death, has accused lawyers representing Kim, Kourtney, Khloe and Rob Kardashian and their momager Kris Jenner of a sustained campaign of "legal bullying," RadarOnline.com has exclusively learned.
Article continues below advertisement
In a series of letters between the feuding camps, sent during July and filed in a Los Angeles court on August 30, it's emerged the Beverly Hills legal duo Arnold Peter and Marcus Lee have traded relentless barbs with the Kardashian's legal team, being headed by the man considered a guard dog to the stars, high-powered legal ace Marty Singer.
"It is the formal policy of our firm not to engage in protracted letter-writing campaigns masquerading as unprincipled threats or legal bullying," the lawyers wrote to the Kardashians.
"We presume that all members of the bar are honorable, qualified and competent and are engaged in zealous advocacy on behalf of their clients. Therefore, we will ignore your needless hyperbole clearly designed to intimidate us and our client into abandoning our claims."
The simmering tension between the two sides has since boiled over: The Kardashians have made a bid to have their ex-stepmom be punished by a Los Angeles court and have her pay almost $50,000 in the reality stars' legal fees!
Article continues below advertisement
The Kardashians claim Ellen's camp "engaged in a calculated effort to avoid and failed and refused to engage in, the requisite meet and confer efforts" -- as ordered by the court — before filing a counterclaim lawsuit against her one-time family.
She ultimately filed a defamation lawsuit against the Kardashians in a state court.
The lawyers say Ellen's legal team's conduct caused the Kardashian's to "incur significant litigation fees that could have otherwise been avoided."
What's more, the Kardashian's are spitting mad at Ellen for allegedly leaking information about their spat to RadarOnline.com!
A hearing has been scheduled for September 30 in federal court to determine if Ellen should be forced to pay the sanctions, totaling $48,700 in legal fees.