Exclusive
Kardashian Sisters Chose To 'Attend A Party' As Their Dying Dad 'Took His Last Breath,' Ex-Stepmom Charges In Explosive Court Declaration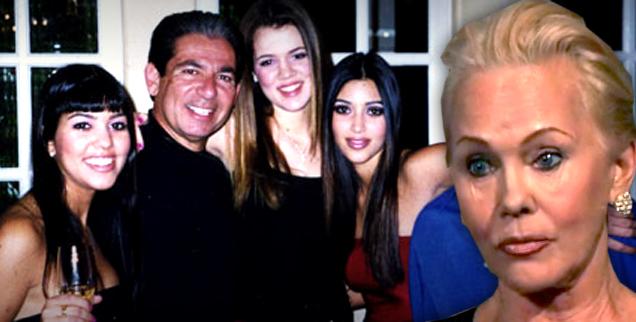 Kim, Kourtney and Khloe Kardashian chose to attend a PARTY as their dead, famed lawyer Robert Kardashian, lived his final moments alive, his ex-wife has charged in an explosive court declaration.
The new paperwork, filed in a Los Angeles court and obtained exclusively by RadarOnline.com, alleged the reality stars were not by their father's side when he "took his last breath" before dying of esophageal cancer on September 30, 2003 at the age of 59, only eight weeks after his diagnosis.
Article continues below advertisement
Ellen Pearson Kardashian, who married Robert just two months prior to his death, wrote: "The Kardashian children rarely visited Robert once he began cancer treatment... At the moment Robert took his last breath, none of his children were by his side, opting instead to attend a party at Kourtney's home."
SLIDESHOW: Celebs Who Have Slammed The Kardashians
It's the latest and most damaging salvo in the feuding parties ongoing legal war after the E! stars called Ellen, a realtor, a "snake in the grass."
MORE ON:
Celebrity Justice
The Kardashians are suing Ellen for $500,000 in damages, claiming she sold their belongings to a number of magazine publishers. In response, Ellen filed her own suit accusing her ex-step children of a litany of civil offenses, including defamation, intentionally inflicting emotional distress, a civil conspiracy to defame and the public disclosure of private facts.
Refuting their famed siblings claim that they did not enjoy a strong relationship with their step-mom, Ellen also attested that all of Robert Kardashian's four children " accepted me as their step-mother."
They Really Did Say It! 50 Outrageous Kardashian Quotes
She even claimed the girls accepted diamond necklaces as gifts for being in her wedding to Robert!
Ellen also used the court papers to reveal that her own daughter, Aprill Lallo, was forced to move into her and Robert's Encino, Calif., mansion to help administer treatment to Robert.