Exclusive
Kim Kardashian, Kris Jenner Spill Family Secrets To Judge: Reveal Dying Dad's Final Moments, Who REALLY Controls Their Reality Show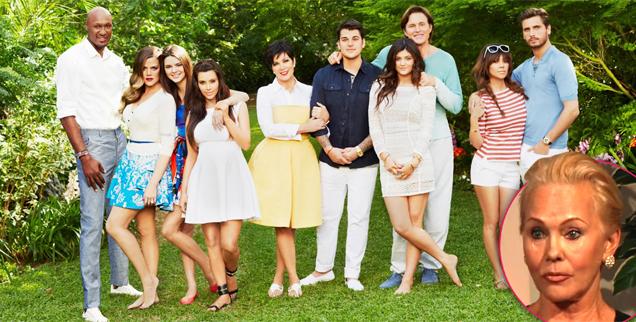 The matriarch of the Kardashian-Jenner clan has revealed details of the inner-workings of the famed family's reality television juggernaut Keeping Up With The Kardashians -- and Kris Jenner is claiming they're not "responsible" for the editing of the show.
In court documents filed in the Los Angeles Superior Court and obtained by RadarOnline.com, the momager provided a revealing declaration as part of an effort to have a defamation lawsuit filed against her and her children by Ellen Kardashian, the wife of the late Robert Kardashian, tossed out of court.
Article continues below advertisement
"Jenner Communications, Inc. (JCI) is and acts as the management company for the Kardashian/Jenner/Odom/Disick families. JCI contracts to provide the personal services of myself to E! For the show. JCI is not a producer of, nor does it receive any producer credits for or related to, the Show.
"JCI, myself and my family members, that are the subject of the show, are not responsible for the editing or production of the show.
Article continues below advertisement
"After episodes are filmed and edited, we are provided the opportunity to provide comments and suggestions to BMP as to footage in a particular episode that has been filmed from or about our lives and BMP does take those into account."
At the center of Ellen's lawsuit -- she is suing Kim, Kourtney, Khloe and Rob Kardashian along with their momager for defamation, intentionally inflicting emotional distress, a civil conspiracy to defame and the public disclosure of private facts -- is episode two of season 8. (The Kardashians-Jenner are also suing Ellen, claiming she had no right to sell details from their father's diaries to a number of magazines.)
In the episode, Ellen has alleged, "the Kardashians repeatedly attributed highly incendiary and provocative statements about Kris Jenner's fitness as a mother to Ellen when they were in fact made by Robert Kardashian about his ex-wife and their mother."
In one scene, Kim was seen on camera calling Kourtney and Khloe and stating, while on speaker phone, 'Dad's ex says that mom used to beat me and hit me and kick me and like she claims dad told her'.
Article continues below advertisement
But according to Ellen, "This statement is false because Ellen did not ever make these claims. These claims were published from a diary and letters written by Robert Kardashian and the Kardashians purposely and falsely attributed the statements to Ellen."
Jenner revealed that one scene was nixed after it was established that they'd recorded something with "inaccurate information."
She said, "Prior to the airing of episode 2 from Season 8 of the show, entitled Enough is Enough, myself and my children, Kim, Khloe, Kourtney and Robert, received the edited episode 2 to review for accuracy the statements made about Plaintiff (Ellen) and to be included in the Episode. Upon review as to the accuracy of the statements, we identified one portion of a segment in the Episode, which discussed Robert Kardashian at the time of his wedding, which we determined contained some inaccurate information. As to that scene, we had our general counsel, Todd Wilson, notify and request BMP (Bunim-Murray Productions, Inc.) that it be removed, which it was."
Article continues below advertisement
In a separate sworn declaration, mother-of-one Kim painted a portrait of Ellen as being manipulative during her relationship with her late father.
"I was present at the July 27, 2003 wedding of Plaintiff to my father," she told the court.
"Prior to my father's wedding with Plaintiff, my father told me that he was diagnosed with stage-four esophageal cancer. I understand that my father was terminally ill.
They Really Did Say It! 50 Outrageous Kardashian Quotes
She charged: "Based on my observations and interactions with my father, I believe that he was suffering from extreme mental and physical fatigue and that he was not fully aware of his surround that day (the wedding). Based on my knowledge of my father over my lifetime, it was apparent to me that his mental state was compromised and I believed it was due to his illness and medications."
Kim said her father was so ill he couldn't stand.
"My father had to be sat on his couch until the ceremony, which took place at the couch. For the Wedding Ceremony, my father had to be probed up, to a standing position in front of the couch, for the few minutes of the ceremony."
A judge has not yet ruled on the Kardashians'Jenner's bid to have the lawsuit thrown out. A hearing has been set for December 17.