Exclusive
Kardashian Ex-Stepmom Ramps Up Legal War Against Reality Stars -- Adds Ryan Seacrest & E! Producers To Lawsuit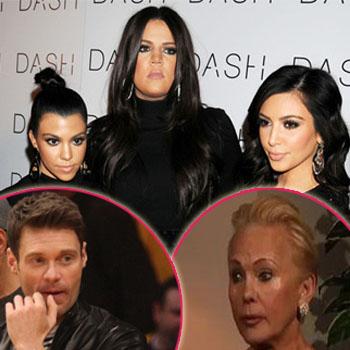 Article continues below advertisement
"When Ellen refused to engage in such a discussion or transaction, Jake (private investigator) abruptly and menacingly terminated the dialogue by threatening to turn the information over to the Kardashians."
COURT DOCUMENTS: Kardashian Ex-Stepmom Adds Ryan Seacrest & E! Producers To Lawsuit
The lawsuit alleges that "after the alleged attempt to entrap Ellen into the drama of their scripted reality television production, the Defendants are left to concoct an untruthful story line and script to air on The Kardashians."
Ellen's legal team says in the lawsuit, "The Kardashians developed and deployed a 'spin' designed to neutralize the exceptionally negative opinion that Robert had of Kris Jenner."
It's the latest legal salvo in the dispute over Robert Kardashian's diaries.
As Radar first reported, Jenner and the Kardashians had previously sued Ellen, who married Robert two months before his death, claiming she had no right to sell details from their father's diaries to a number of magazines.
Also named in the lawsuit is Bunim Murray Productions, co-producer of Keeping Up With The Kardashians.
Ellen is seeking unspecified damages, attorney's fees, and other costs.