Exclusive
Keep Out, Kim! Kim Kardashian Claims Stepmom Banned Her From Dying Dad's Home — 'We Had To Like Force Our Way In'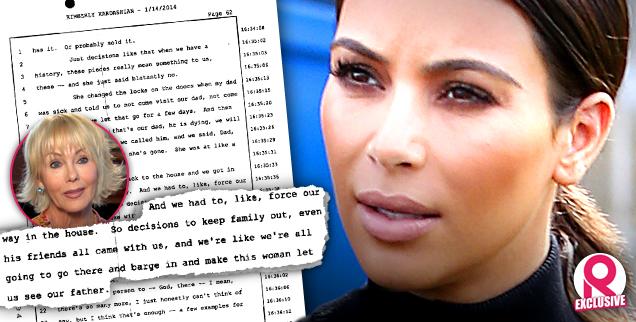 The Kardashians might have settled part of the bitter legal feud with their ex-stepmom, but another element of the case remains alive — and it's providing insight into how the reality stars spent their final days with their late father, famed legal eagle Robert Kardashian.
Kim sat for a deposition on January 14, RadarOnline.com has learned, and revealed how Ellen Pearson-Kardashian supposedly changed the locks on the home she shared with the Kardashian dad.
Article continues below advertisement
"She changed the locks on the doors when my dad was sick and told us to not come visit our dad, not come see him," Kim, 32, told lawyers at the legal interrogation.
"We let that go for a few days," she added, "then finally we're like, 'That's our dad, he is dying, we will come over there.' And we called him and we said, 'Dad, open the door. We know she's gone.' She was at, like, a salon appointment.
"We came back to the house and we got in there and we took a key. And we had to, like, force our way in the house. So decisions to keep family out, even his friends all came with us and we're like we're all going to go there and barge in and make this woman let us see our father."
It's the first time mother-of-one Kardashian — due to get married to Kanye West later this year — has responded to Ellen's sensational claims that they snubbed their father in his last days alive.
Article continues below advertisement
Ellen even claimed the E! stars were not by their father's side when he "took his last breath" before dying of esophageal cancer on September 30, 2003, at the age of 59, because they chose to attend a party instead!
Ellen, who married Robert just two months prior to his death, previously wrote in court papers: "The Kardashian children rarely visited Robert once he began cancer treatment… At the moment Robert took his last breath, none of his children were by his side, opting instead to attend a party at Kourtney's home."
Last week, the Kardashians called a truce — in part — with Ellen over their legal claim that she sold their late father's diaries.
However, Ellen's defamation suit -- which she filed against the Kardashians — remains alive; In the suit, Ellen accused her ex-step children of a litany of civil offenses, including defamation, intentionally inflicting emotional distress, a civil conspiracy to defame and the public disclosure of private facts.
Article continues below advertisement
Earlier in Kim's deposition, the notorious sex tape star was grilled about claims there were "lies" in Robert's diary, which revealed Kris had allegedly hit her as a child.
"Can you give me an example of -- what were some of the examples of the entries that were false?" Kardashian was asked.
"Where it states that my mom beat me as a child and hit me, that's absolutely not true," Kim replied.
"So it's your testimony today that your mother never beat you or hit you?"
"Correct," North West's mother said.
"Do you think Ellen fabricated those diary entries?"
"Correct."
The Kardashians' attorney, Marty Singer, also gave a shout out to RadarOnline.com in Kim's deposition, joking that Ellen should sell her story to this website.
"You're not going to sell that to RadarOnline.com Online, I don't think. There's not enough value for that although," he said, referencing Kim's claim that she had been locked out of her dad's last days.
Celebs Who Have Slammed The Kardashians
"We should," an attorney retorted.
To which Singer responded, "No, we won't do that. We're not going to stoop that low."
A hearing has been set for May 5 to determine if Ellen will be forced to pay over $300,000 to the Kardashians in legal fees.