France, We're Still Coming For You! Kim Kardashian & Kanye West Scout New Paris Wedding Locale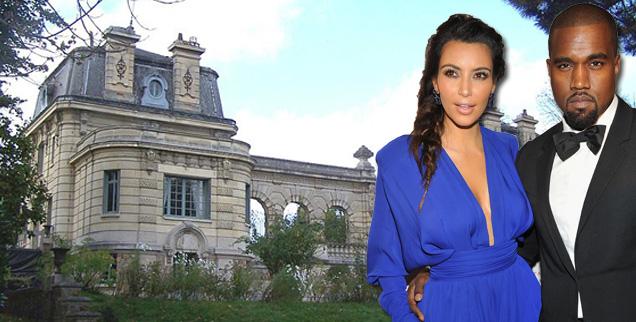 Getting denied by the Palace of Versailles isn't stopping Kim Kardashian and Kanye West from holding their nuptials in Paris.
According to a new report, the high-profile couple have been scouting a new location — the 17th-century, Louis XIV-commissioned Chateau de Louveciennes.
"Kanye was taking the lead, asking all the questions and visualizing the big day and how everything might work," a source told X-17.
Article continues below advertisement
"Kim offered a little input, but not much. It was all about how Kanye thought things should go and how he wants the wedding to look."
With their entourage, Kardashian and West recently toured the property for about two hours, with a guide leading them through the historic buildings and gardens, X-17 reported.
The enormous and stunning structure was used as a prototype for neoclassical architecture, and is finished and furnished with exceptional class and elegance.
Interestingly, in the 1980s squatters took over the chateau until it was finally restored in 1994 when a wealthy French business investor bought and restored the property.
"Kim and Kanye will now be scouting private estates and chateau's in the region. Working with an estate manager would be much easier than dealing with all of the red tape of having a wedding at a public venue," a source previously told RadarOnline.com when Kimye was denied at Versailles.
Article continues below advertisement
"The couple is looking for something grand, but something that can offer privacy and security."
And as RadarOnline.com exclusively reported in March ,Kardashian, 33, and West, 36, have set their wedding date for May 24 — which could be an issue since that leaves just 41 days until their impending ceremony.
French law requires a 40-day residency requirement PRIOR to any wedding!
RadarOnline.com exclusively revealed, the law with the French Embassy in Washington D.C. advises: "All marriages must be performed by a French civil authority before any religious ceremony takes place. The mayor can authorize the deputy mayor or a city councilor to perform the ceremony in the town in which one of the parties to be married has resided for at least 40 days preceding the marriage. These requirements can not be waived."
A Kardashian source confirmed: "Kim and Kanye were unaware until recently that France required a residency requirement prior to the marriage. Kanye has an apartment in Paris, but he doesn't live there full-time."
Sacrebleu!