Exclusive
Sacré Bleu! Kim Kardashian & Kanye West WON'T Be Allowed To Have Wedding At Versailles!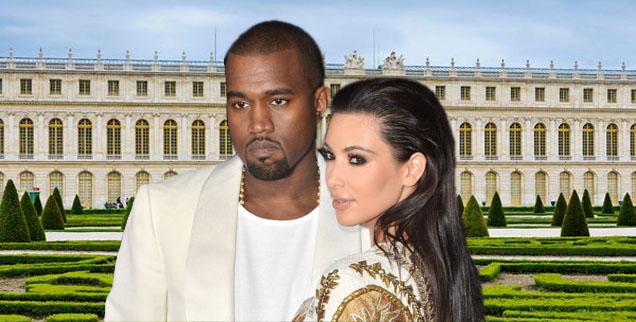 Kim Kardashian and Kanye West visited the Palace of Versailles outside of Paris over the weekend in hopes of having their over-the-top wedding at the iconic landmark, but RadarOnline.com has exclusively learned officials have denied the request, forcing the couple to continue the search.
Located just 30 minutes outside of Paris in the village of Versailles, the Palace was built during the 17th century, was home to Marie Antoinette and is one of the most famous and elegant buildings in the world.
Article continues below advertisement
Several of its huge spaces — including the legendary Hall of Mirrors and the Royal Opera — are available to rent for events and either could accommodate up to 600 people at price tags that go into hundreds of thousands of dollars.
But Kimye had been told PRIOR to the visit on Sunday night that a "wedding/reception wouldn't take place at Versailles. It would just have been to intrusive for visitors to the Palace, and the staff," a source told Radar.
"Kim and Kanye really wanted to get married at Versailles and were both hoping to persuade officials during their visit...ultimately it backfired. It was still a firm no."
The engaged pair was spotted leaving the Palace after dark on Sunday and the Keeping Up with the Kardashians star even posted a few seconds of video she billed as "Versailles after dark."
Earlier in the day, the couple checked out the Trianon Palace Versailles, a luxury Waldorf Astoria hotel that is only one mile from the Palace and would be an ideal location for the couple and all their guests to stay for their big event.
Sources tell Radar, "Kim and Kanye will now be scouting private estates and chateau's in the region. Working with an estate manager would be much easier than dealing with all of the red tape of having a wedding at a public venue.
"The couple is looking for something grand, but something that can offer privacy and security."
West has often talked about Kardashian as his queen and it looks like he's trying to give her a royal wedding!