Making Wedding Plans In Paris: Kim Kardashian & Kanye West Have Private Visit To Palace Of Versailles & Check Out Nearby Hotel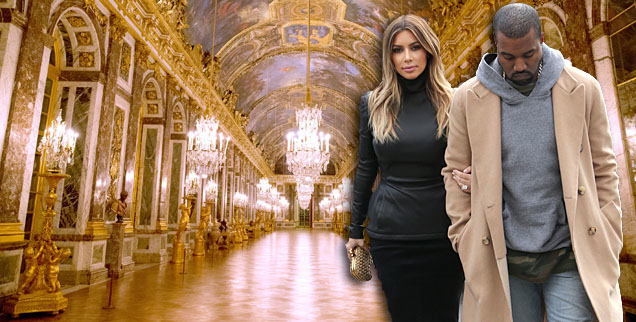 Kim Kardashian and Kanye West's visit to Paris this weekend is a wedding reconnoiter trip!
Sunday night the two made a private visit to the legendary Chateau de Versailles -- known as the Palace of Versailles.
RadarOnline.com told you last month the bride and groom-to-be were eyeing the Palace as a possible wedding venue, and they now appear to be getting serious about it!
Located just 30 minutes outside of Paris in the village of Versailles, the Palace was built during the 17th century, was home to Marie Antionette, and is one of the most famous and elegant buildings in the world.
Article continues below advertisement
Several of its huge spaces -- including the legendary Hall of Mirrors and the Royal Opera -- are available to rent for events and either could accommodate up to 600 people at price tags that go into hundreds of thousands of dollars.
The engaged pair was spotted leaving the Palace after dark on Sunday and the Keeping Up with the Kardashians star even posted a few seconds of video she billed as "Versailles after dark."
Earlier in the day, Kimye checked out the Trianon Palace Versailles, a luxury Waldorf Astoria hotel that is only one mile from the Palace and would be an ideal location for the couple and all their guests to stay for their big event.
West has often talked about Kardashian as his queen and it looks like he's trying to give her a royal wedding!