Exclusive
It's Over! Kris Jenner Files For Divorce From Bruce, 11 Months After Announcing Their Separation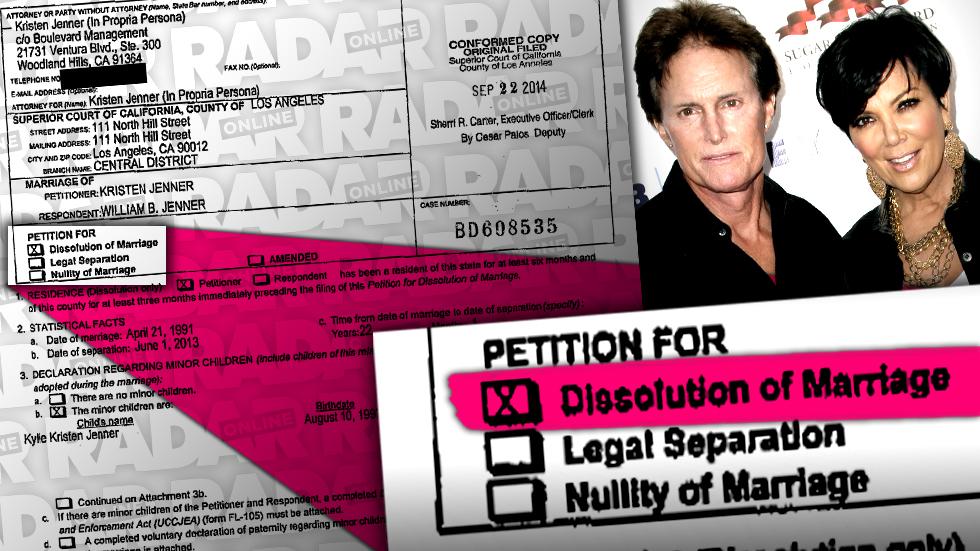 It's about time! Nearly one full year after Kris and Bruce Jenner announced their separation, RadarOnline.com has learned that the Kardashian momager has finally taken a step towards making the split permanent, and filed for divorce in Los Angeles.
RadarOnline.com has obtained a copy of the documents, which cite irreconcilable differences as the reason for the split. According to the docs, Kris wants joint physical and legal custody of their daughter Kylie, 17. (Daughter Kendall is 18.) She also requested to keep her own jewelry, and wants to keep all assets from the date of separation. As for the couple's other property, the documents state that they will divide everything later. The documents cite June 1, 2013 as the date of their separation.
Article continues below advertisement
Kris and Bruce tied the knot in 1991, only one month after the future reality matriarch's divorce from Robert Kardashian Sr. was finalized. Bruce had been married to Linda Thompson from 1981 to 1984.
READ The Bombshell Divorce Documents
More than two decades, two children (Kendall and Kylie) and millions of reality TV fame dollars later, the couple announced they had grown apart in October of last year, confirming months of RadarOnline.com exclusives on the crumbling of their marriage.
"We are living separately and we are much happier this way," the Keeping Up with the Kardashians stars said in a statement. "But we will always have much love and respect for each other. Even though we are separated, we will always remain best friends, and, as always, our family will remain our number one priority."
Bruce, 64, subsequently moved out of their family home in Calabasas, Calif., into a Malibu bachelor pad, and began the shocking transformation that has stunned fans in recent months.
Article continues below advertisement
After growing out his hair, having his Adam's apple shaved down, and even — most recently — being spotted wearing a girdle, it's clear that the former Olympian is a far cry from the man Kris, 58, married.
She insisted at the time of the separation, "We ended a marriage, but that's not the end of our friendship. I will always love him, but we are no longer a couple in that way."
It's just the latest in a slew of recent divorces for the Kardashian women: Daughter Kim's divorce was finalized last June, and Khloe's divorce from Lamar Odom is still ongoing, more than six months after she filed.
But though seemingly delayed, the timing of Kris' move couldn't be better: The family is slated to start filming the next season of Keeping Up with the Kardashians in just a matter of weeks, and as RadarOnline.com has reported, Bruce's role will be drastically reduced.
Story developing.