Bruce Jenner's Sons 'Support' His Decision To Have Adam's Apple Surgery, Blame Estranged Wife Kris For Introducing Plastic Surgery To The Family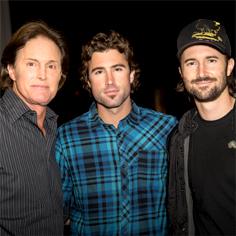 The two sons of Bruce Jenner, Brody and Brandon, fully support their Olympic gold medalist father's decision to flatten his Adam's apple, RadarOnline.com has been told.
As we previously reported, the 64-year-old E! star underwent a "laryngeal shave" procedure on Jan. 19 to soften the feature of his neck — a move the National Enquirer said could be the first step in him becoming a woman!
A source told Radar: "The boys don't think their father is trying to become a woman and simply laugh at rumors."
Article continues below advertisement
"Kris always encouraged Bruce to have his face nipped and tucked. He has had plastic surgery to remove excess fat above his eyelids. The Adam's apple surgery is just following in that pattern."
Photographs published exclusively in the Enquirer show Jenner – who won the gold medal in the Decathlon at the 1976 Summer Olympics in Montreal — with his long hair down, in a top zipped up over his neck and bandages clearly poking out.
Article continues below advertisement
According to the report, experts called the laryngeal shave the facial feminization process prior to gender reassignment surgery.
"The car took him back to his Malibu home and he was told no talking for a few days," an insider told the magazine.
Adding to the speculation, earlier this week, Jenner stepped out flaunting a set of long, manicured nails that online chatter concluded seemed a strange choice for an active, athletic man.
Jenner's daughters Kendall and Kylie recently spoke out to defend their dad's new appearance, declaring it's a "surfer" influenced look reflective of his new life in Malibu, where he had been living alone for several months prior to his split from Kris.
"Brody and Brandon are continuing to spend time with their dad and their sisters," said the source.
"Brody has spent more time with Bruce in the last six months than in the last six years.
"Since being separated from Kris, they have been able just hang out with their dad at his Malibu house. When Bruce was living at the Hidden Hills house with Kris, Brody hardly ever visited.
"He just didn't feel comfortable going there.
"Bruce has an open door policy at his Malibu pad, they just drop by whenever, it's been a really good thing," the insider added.