Exclusive
Bruce Jenner Sports Long, 'Womanly' Manicure -- A New Sign Of His TRANSformation?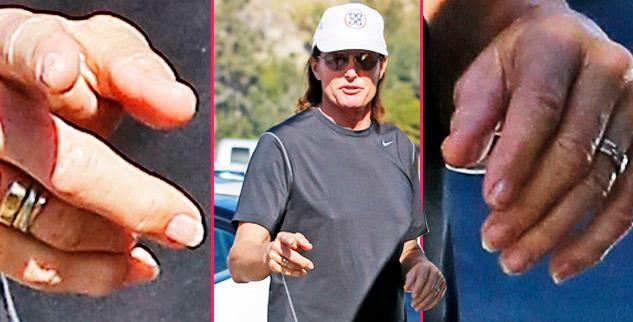 First, there was the ponytail. Then, the announcement Bruce Jenner wanted to have his Adam's Apple shaved down -- a common surgery for men transitioning to women. Now, he is flaunting a set of long, manicured nails that seem a strange choice for an active, athletic man. Is it the latest sign of his obvious transformation since announcing his split from Kris Jenner?
Bruce showed off his unusual nails in Los Angeles on Saturday. But he's actually been rocking a similar look for months! On Sunday night's episode of Keeping Up with the Kardashians, which was filmed before his October split from Kris, his nails looked odd enough for fans to take note on Twitter:
Article continues below advertisement
Bruce Jenner has his nails painted, and is wearing a pony tail and bobby pins. Let that sit with you for a minute. #KUWTK

— Abby Draper (@AbbyDraper) January 20, 2014
Wait wait wait I love Bruce Jenner but watching him pour champagne... His nails are soooo much longer than mine ?

— Shannon Elizabeth (@shann_n_n) January 20, 2014
#brucejenner nails are so creepy and womanly not manly

— Maris L (@Marislisaa) January 20, 2014
Bruce Jenner's nails are longer than half of my friends' #wehaveaproblem

— Lily Coll (@COLL_MEEMAYBEE) January 20, 2014
Zoom in of Bruce Jenner's finger nails was too much for me TOO MUCH FOR ME #KUWTK

— Emily Africk (@eja090) January 20, 2014
As RadarOnline.com has reported, Bruce has undergone an obvious physical transformation in recent months, with some experts even going so far as to speculate that he could be transitioning into a woman.
After reports emerged that Bruce was having his facial hair taken off via laser hair removal, and having his trachea shave down (a claim he later denied), transgender sex change surgeon Dr. Marci Bowers -- who has not treated Bruce -- told RadarOnline.com, " "That would suggest pretty strongly that it's more than just a passing stance, a passing phase. There's a lot of different ways that people can express the feeling of being transgender without going all the way and making irreversible steps. ... That crosses the line, and it does seem probable that he is beginning the process of transitioning to a female."
Bruce's daughters Kendall and Kylie recently spoke out to defend his new, longer, hairstyle, saying that it's a "surfer"-influenced look reflective of his new life in Malibu, where he had been living alone for several months prior to his split from Kris.