Kris Jenner Declares Fights With Hubby Bruce Were So Bad 'I Didn't Like Me'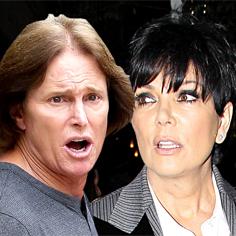 Meet the Bickersons!
Kris and Bruce Jenner's relationship had deteriorated so much before the ultimate split that she says she didn't even like listening to herself fight with her hubby.
The matriarch of the Keeping Up With the Kardashians family hid their troubles for months, but now she says that since they are the type of couple that is just "better apart."
"We're great. He's great and I'm great and we're such good friends," Kris reportedly said at the #cirocthenewyear anti drinking and driving pledge party at L.A.'s Mixology 101 on Tuesday.
Article continues below advertisement
They share two daughters, and Kris said they are happier with their parents separated.
"They notice the difference and how the energy in the house has shifted and how great everyone is."
However, there's not a Grinch in the bunch.
"Bruce came over last night because he just had to see the tree again! It's really fun. I get so excited during the holidays," Kris said.
"I get excited when he's coming over. We enjoy seeing each other more now."