Exclusive
No Scott, No Problem: Kourtney Kardashian Doting On Kids During Santa Barbara Resort Stay, As Couple's Relationship Remains In Peril Due To His Partying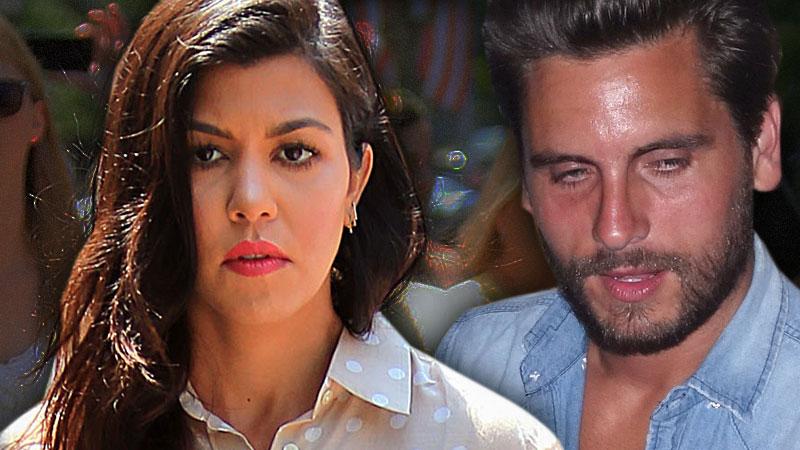 Kourtney Kardashian has been staying with her two kids at the swanky Bacara Resort in Santa Barbara, but baby daddy Scott Disick wasn't invited along, as the couple's hit a very rocky patch due to his late night partying, RadarOnline.com is exclusively reporting.
The oldest Kardashian sister, who's pregnant with Scott's third child, was spotted at the oceanfront resort "hanging out by the pool and playing with Mason and Penelope," a source told RadarOnline.com, indicating that the socialite is gracefully handling the transition period in her housing situation and relationship.
Article continues below advertisement
"Kourtney also had a nanny along to help her; she looked very happy, and didn't seem to mind that Scott wasn't there. In fact, Kourtney was relieved Scott didn't come, because all they have been doing recently is fight over his late night partying.
The source said that Kourtney's main focus is all about the kids, and making them happy" — and not Scott, who "just isn't a priority" with his ongoing antics.
Kourtney has been enjoying living in a hotel while the couple's home is being cleared of mold, the source said, noting that the 925 sq. foot Bacara suite she's staying in comes complete with a panoramic ocean view, a fireplace, two bathrooms and a sleeper sofa for the kids.
"Even though Kourtney paid for the nanny's room to be right next to hers," the source said, "the kids slept with their mom."
The latest rift between Kourtney and Scott comes at a very precarious time in their relationship, as in preview clips of Kourtney & Khloe Take The Hamptons, Disick is told he had better get sober, or else.
MORE ON:
Kourtney & Khloé Take the Hamptons
Article continues below advertisement
"Unless you want to be sober, then I don't want you here," Kourtney, 35, tells Disick, who she locked out of their Hamptons home at a point. "If you want to die, then you can continue to act this way."
But in the clip, Disick kept the party going: In one sequence, after a shot of empty pill bottles surrounded by beer bottles flashes on the screen, someone was heard shouting, "He took the entire thing — every pill!"
The deadly cocktail of substances lands Disick in the hospital where a doctor warns him that "the combination of drugs is not a good thing" and that he needs to "let them wear their way out" of his system.
"Kourtney overlooks a lot when it comes to Scott," the source said. "However, the path he is currently headed down, makes it almost impossible to ignore.
"She is hopeful that with the third child coming, Scott will settle down, and stop partying."