Rehab? Kourtney, Momager Kris Suggest 'Depressed' Scott Needs Help After Third Pregnancy Announcement; 'Lord' Whines 'You Just Keep Suckering Me Into These Kids!'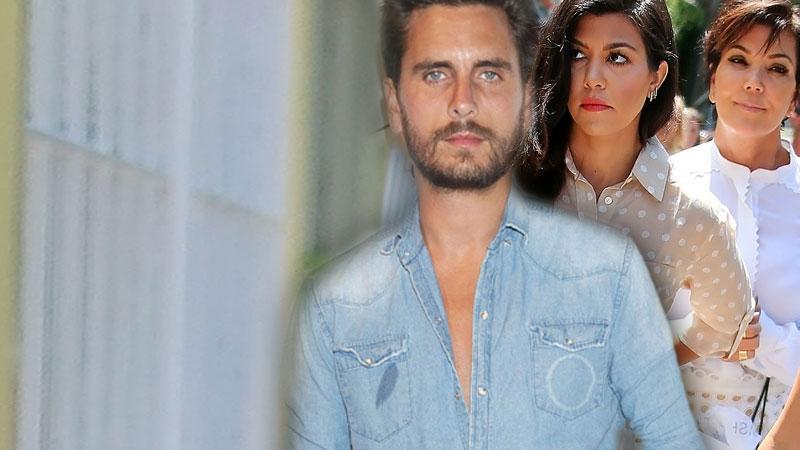 Article continues below advertisement
Scott Disick's road to recovery continues to be a jagged one, as his girlfriend, Kourtney Kardashian, wants him to enter rehab.
The drama went down when Kourtney told Disick, "I just wanted to tell you that I am pregnant."
Disick, wearing dark glasses, was shocked and said, "You just keep suckering me into these kids. I just can't handle this responsibility."
Already the father of Kourtney's son Mason and daughter Penelope, Disick whined, "I just can't take care of more kids."
Kourtney admitted to the cameras she had had to build up courage to tell Disick because he was depressed over the deaths of both of his parents over a short time span.
"You're known this for how long?" Disick asked, then figuring Kourtney must have known she was expecting when he took her away for her birthday.
"This is ridiculous. It's always so sneaky with you," he sighed.
"This ain't good."
Disick later raged to Kourtney's sister Khloe, "I got two kids already, a boy and a girl. I barely feel I can take care of myself. Traveling all the time, that's where it's hard. It's a f*cking army!"
Article continues below advertisement
Later, after Kourtney found out that Disick hadn't come home from a club appearance in Mexico, she told the cameras, "I have no idea where he is."
When Disick finally appeared, Kourtney told him it wasn't okay to go MIA.
"I was worried….thinking you were literally dead," Kourtney said.
Disick admitted to her, "There's no excuse."
"I want you to fix this depression," she told him.
During a later scene, Kourtney suggested to her mom Kris that maybe Disick should go away "some place" to work on his issues.
While NOT specifically using the R word—for rehab— it was clear that's what she meant. Disick's boozing habits are well-known both on and off the show.
Kourtney told the cameras, "I'm not even exactly sure if Scott has an issue with alcohol or is using it to numb his depression from losing both of his parents."
Kourtney then asked her mother "if that Arizona place is the best place," but Kris replied that he might be the kind of person who wouldn't do well in a group setting because "he gets social anxiety."
Article continues below advertisement
However, later, Disick was seen playing with their little daughter Penelope and saying, "I just need to think of the positives, relax, and enjoy the third time around."
And Kourtney decided that—instead of rehab for Disick--they would go stay in the Hamptons to work on Disick's depression. In fact, the family's next E! show, Kourtney and Khloe Take The Hamptons, is set to premiere soon after Monday's KUWTK finale.
Kourtney told Khloe the Hamptons could be the perfect setting where Disick can "deal with some of the pain he's been pushing aside."
Meanwhile, viewers also saw more of Kim Kardashian's wedding prep on Sunday's episode.
Although the world knows Kim and Kanye already got married in May, KUWTK fans are finally seeing how things all played out.
Kim wants another baby with Kanye West, and she told stepdad Bruce Jenner her attitude was, "Let's hurry up and have our wedding so I can get pregnant again."
Article continues below advertisement
"Brody asked to bring his girlfriend and I said no," Kim told Bruce, indicating that there wasn't enough space at their Italian wedding venue.
"Just to be honest, I'm at my snapping point with him talking about my mom. I've heard from a few people he's been talking sh*t about her and I don't want him to talk about my mom anymore," Kim vented to her stepfather.
Bridezilla Kim told cameras, "My mom's always made to seem like this evil stepmom. …when she's the one who has bent over backwards for everyone…I'm at the point where I will go off on Brody."
Article continues below advertisement
Kris later soothed Kim, saying, "There's always going to be one family member who gets their feelings hurt. You are going to have drama. That's just what happens at weddings."
Later, Kris phoned Brandon and told him to order Brody to get himself to Europe.
Seeing the tension, Bruce decided to talk to his son himself.
"I'm not going," Brody told Bruce flatly about Kim's wedding.
However, he admitted to his dad, "I did say, 'Kim, if I go, I'd like to bring my girlfriend.' "
Brody also complained while Brandon and Leah got plenty of attention, he "never received one phone call" about the wedding.
"I'm fine. Life goes on," Brody finally shrugged to Bruce, and as RadarOnline.com readers know, he didn't go to Kim's wedding – and later said it was because of a work commitment.
Viewers also saw Kim try on her elaborate Givenchy wedding dress and coo, "This is what I call couture, people."
Article continues below advertisement
She also nagged Bruce to cut his ponytail to make sure he'd look good for the wedding.
Momager Kris chimed in, "She has a certain vision of what she wants her wedding party to look like."
Later, at a surprise bridal shower planned by Kris, Kim told her friends of her future family plans with Kanye, "I'm going to have another one and if it's a girl, I'm definitely going to go for a boy and if it's a boy, I might be done."
Kim predicted if she had another girl, however, her second daughter and North would be "BFFs" and then she'd try for a boy for the third child with Kanye.
Kim opened gifts at her shower and revealed to pals, "Khloe's like, 'You're the sexiest person but you wear the ugliest pajamas.' Kanye threw away all my pajamas."
Later, Kim tried on her wedding lingerie from the party. Clad in white bra, panties, and robe, she said, "It's so important I have the right stuff."
On Monday night's special Labor Day KUWTK season finale, viewers will see all the behind-the-scenes action of Kim and Kanye's wedding. Keep reading RadarOnline.com for more!