Kim Kardashian Admits Brody Jenner Was Upset She Didn't Invite His Girlfriend To Her Kanye West Nuptials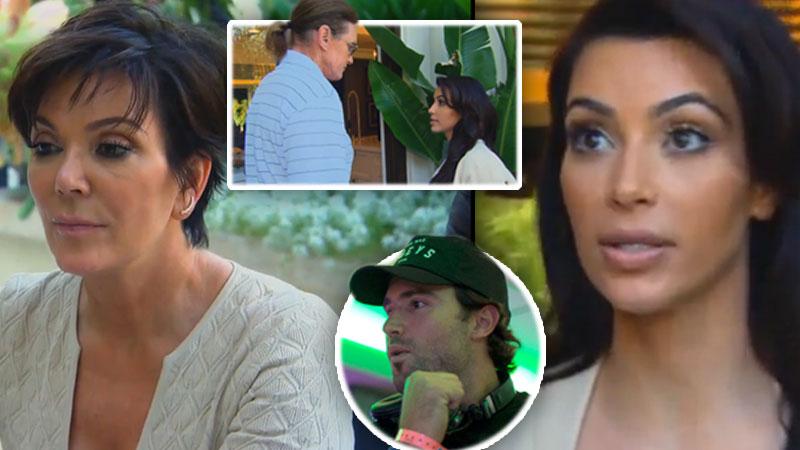 Although Kim Kardashian and Kanye West got hitched a few months ago, the drama surrounding the high-profile wedding has yet to end.
In a sneak peek of this week's Keeping Up With The Kardashians, Kim reveals that Brody Jenner was upset that Kris and Bruce Jenner paid for Brandon Jenner and his wife's tickets to the European wedding while giving Brandon the axe.
While pulling Bruce away from the rest of the family, Kim says, "I wanted to tell you that -- I didn't want to say it in front of mom because it'll hurt her feelings -- but I think Brody is upset because you and mom paid for Brandon and Leah."
Article continues below advertisement
No stranger to drama, Bruce brushed it off by telling Kim that Brody can be moody.
"Brody can get a little huffy at times," Bruce said.
Kim previously told Brody that his girlfriend would not be allowed to attend the wedding. Bruce, while remaining sympathetic to his son's cause, also understood from where Kim was coming.
"I understand it's your wedding, you can do what you want."
It would eventually turn out that Brody skips the nuptials altogether, but as RadarOnline.com previously reported, he had a good reason.
"Kim's wedding was in Paris. I was working. Kim's was in Paris -- it's as simple as that," he said of the newlywed, who spent the days leading up to her Florence wedding in the City of Lights.
Although Brody claimed he had to work, the DJ also didn't invite Kim to his birthday party earlier this month. A source told RadarOnline.com exclusively, "But there was never any thought to even invite Kim.
"Publicly the two will say there is no feud, but that is all for keeping up the appearance of having a big extended family for the sake of the E! reality show," the source added. "Brody never sees Kim except when they are filming, and the two aren't even considered friends."