Exclusive
Dissed Again! Kim Kardashian Banned From Brody Jenner's Bday Bash After He Skipped Her Wedding — 'She Was Not Invited … They're Not Even Friends'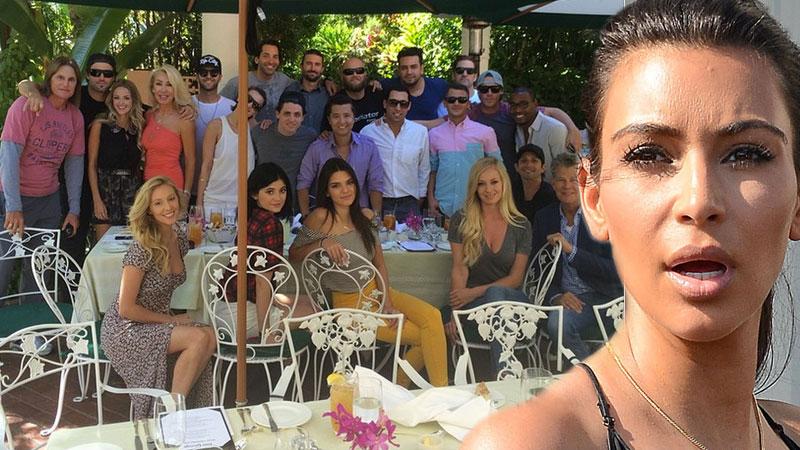 The Kardashian family feud continues! Roughly three months after Brody Jenner skipped his step-sister Kim Kardashian's wedding to Kanye West, he gathered the family together to celebrate his birthday at the Beverly Hills Hotel Polo Lounge on Thursday — but RadarOnline.com has learned that Kardashian was not invited!
"Brody had a great time on the patio at the Polo Lounge on Thursday with family and friends," an insider told Radar. "His girlfriend, Kaitlynn Carter, his dad Bruce, his mom Linda Thompson, brother Brandon, and of course younger sisters Kendall and Kylie were there. Kim, and his step-mom, Kris Jenner, were noticeably absent. Even his step-father, David Foster was also in attendance!"
Article continues below advertisement
"But there was never any thought to even invite Kim," a source revealed. "Publicly the two will say there is no feud, but that is all for keeping up the appearance of having a big extended family for the sake of the E! reality show. Brody never sees Kim except when they are filming, and the two aren't even considered friends."
Indeed, it wasn't as if Kardashian had any out of town engagements that would force her to RSVP "No" to the party. Earlier Thursday morning, Kim actually had breakfast at the Polo Lounge with sisters Khloé, Kourtney, and momager Kris!
"Kim loves the Polo Lounge because it's the one place she can go and not be photographed by paps," a source explained. "She feels very safe at the hotel, and raves about the service from the valet staff, servers, and other staff members. Kim has often joked about wishing she could move into the hotel because she feels so at home there."
Kanye West's baby mama had publicly supported a boycott of the Beverly Hills Hotel because of the owner's stance on LGBT rights, but she recently changed her mind because of the negative impact it was having on employees.
Article continues below advertisement
Many Hollywood A-listers have turned away from the Beverly Hills Hotel in the wake of anti-LGBT and anti-female laws enacted in Brunei, the home country of owner Sultan Hassanal Bolkiah. Since the boycott began, it has lost famous clientele and ritzy parties, including the glamorous night-before-the-Oscars fundraiser.
Some also have argued that boycotting the hotel hurts the innocent staff, which is why Kardashian will once again visit the hotel.
She wrote in a blog post that she wants to return to the hotel she once viewed as a "safe haven."
"There must be other ways to express our views without punishing the workers, some who I know personally have families at home and depend on the city's business and tips to survive," she wrote. "For every warm smile when they greet us and for all the dedication they put in to make our experiences more enjoyable, I hope we can return the same love and compassion to make sure they're not forgotten during this protest."
Indeed, a source told Radar, "Brody didn't hesitate to have his birthday lunch at the Polo Lounge. Having grown up going there, Brody has a very fond affection for the hotel staff. As a staunch supporter for the LGBT community, like Kim, Brody feels there are other ways to protest that don't have a negative impact on staffers."
Do you think he should have invited Kim? Let us know in the comments!