Exclusive
Kim Kardashian Changes Her Mind About Beverly Hills Hotel Protest – It's 'Punishing The Workers,' Supports Russell Crowe And Rose McGowan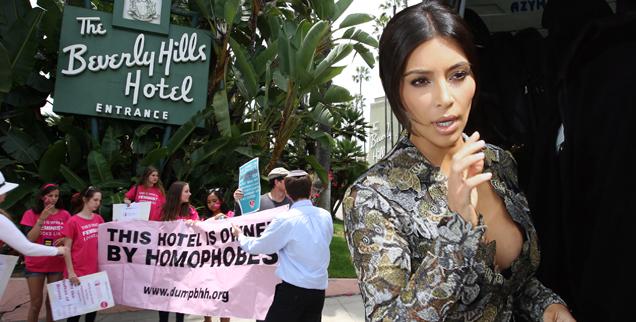 It looks like Kim Kardashian has changed her mind regarding the Beverly Hills Hotel boycott, and RadarOnline.com can exclusively report the hotel's reaction to her newfound support.
Having once protested the hotel because of the owner's stance on LGBT rights, Kardashian has decided that she will no longer participate in the boycott because the "hotel staff are being negatively affected every day."
Many Hollywood A-listers have turned away from the Beverly Hills Hotel in the wake of anti-LGBT and anti-female laws enacted in Brunei, the home country of owner Sultan Hassanal Bolkiah. Since the boycott began, it has lost famous clientele and ritzy parties, including the glamorous night-before-the-Oscars fundraiser.
Article continues below advertisement
But some also have argued that boycotting the hotel hurts the innocent staff, which is why Kardashian will once again visit the hotel. Previously, however, she relocated her bridal shower from the iconic hotel because of the sultan of Brunei's beliefs. But now, she wrote in a blog post that she wants to return to the hotel she once viewed as a "safe haven."
"There must be other ways to express our views without punishing the workers, some who I know personally have families at home and depend on the city's business and tips to survive," she wrote.
The newlywed Kardashian also discussed her childhood memories at the historic hotel and said she now supports Russell Crowe and Rose McGowan's take on the issue, which chooses to frequent the hotel instead of boycott it. But, at the end of the day, she wants to support the staff.
"For every warm smile when they greet us and for all the dedication they put in to make our experiences more enjoyable, I hope we can return the same love and compassion to make sure they're not forgotten during this protest," she wrote.
Article continues below advertisement
After hearing about Kim Kardashian's flip-flopping, the hurt hotel has responded exclusively to Radar.
"During this challenging time, we have been deeply touched by the tremendous support received from our loyal guests, including Kim Kardashian, and long standing business partners who recognize that Dorchester Collection hotels are part of the fabric of their local communities," said Christopher Cowdray, Chief Executive Officer, Dorchester Collection. "We proudly honor their iconic heritage and remain committed to our core values of integrity, equality and diversity."
Although she won't continue to support the protest, she remains a staunch advocate for LGBT rights.
"The unjust treatment and violation of rights of the LGBT community around the world is never justified and I will continue to proudly support the LGBT community in every way imaginable."